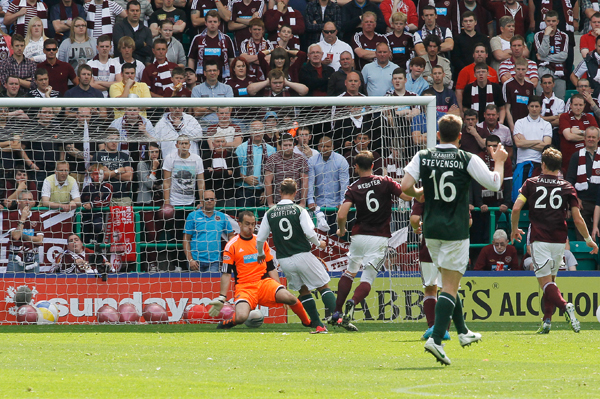 Both Pat Fenlon and new signing Alan Maybury have praised the character of the players at Easter Road after Hibs fought back from a goal down to earn a draw with city rivals Hearts, in a game that most fans thought they would lose.
Fenlon also singled out several of his players who showed  much needed leadership qualities which have been sadly missing for some time.
Speaking after the game, the Hibs manager said: "We showed great character today and a lot of ability as well. I think that when you go a goal down and you have been slightly the better team, it sometimes can knock you back a little bit, but, in fairness to the two players who were involved in it, they are both experienced players and just put it aside and got on with it. Maybe if a younger player had been involved it might have caused a problem.
"I think the character after that was fantastic and before that I thought we were the better side. I'm very pleased with them.
"We owe the supporters a lot more than just getting a point. People have asked me about the supporters and they are just waiting to get behind us. You could feel that again today. They were immense again and even if there was a fair few empty seats, it's up to us to make sure we get the punters back in the gate and the ones that stayed away today may think that there's a little bit of character and balls about this team. We need them behind us.
"I'm not going to ask the supporters to do any more for us. They have been fantastic so it's up to us to entice people back in, and that was a step in the right direction today, but just a small step. We got a point and we're not getting over excited about it. We have a big game next week."
When asked whether he was nervous about new signing Gary Deegan getting a second yellow card, he replied: "He's like that. I thought it was a yellow card, there's no doubt about that. I thought there could have been a few more dished out before that. You worry about him from two points as well. Firstly he's picked up a yellow early and also he hasn't played a lot of games so he could run out of steam and be late in tackles, but I thought he was very good for us today and kept his composure."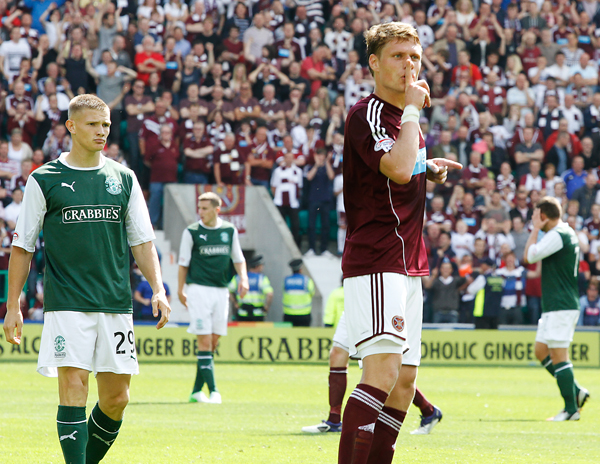 Fenlon also singled out other players who showed the attributes he has been looking for.
"I think McPake, Deegan and a couple of other, what they give you is leadership qualities we didn't have a lot of in the dressing room when I came in. We are still looking to add a few more to that as well in relation to the type of character we want in the place. I thought Paul Cairney was very good for us in the first half particularly. You are trying to add players with character but also ability.
"Since Leigh Griffiths came back in he's been fantastic for us. For the first time against Hearts since I've been here that he has played the game and hasn't worried about previous 'what's gone on.' Obviously he's a big Hibs supporter and before that it may have played on his mind, but today he played the game and caused them a lot of problems."
When asked about former Blackburn Rovers and Newcastle United striker Shefki Kuqi being in the stadium, Fenlon quipped: "I hope he enjoyed it, because I enjoyed it and I was in the stand as well." But would not be drawn on whether his signature is imminent although he did say: "we are looking to bring in players and that's all I'm going to say."
Meanwhile, new signing Alan Maybury accepted responsibility for the mistake which gave Hearts the lead, but also praised the character of his team mates who fought back to equalise.
The former Republic of Ireland international said: "Obviously it was my mistake for the goal which doesn't help and put us on the back foot, but I thought we showed a bit of character, and a bit of belief that the managers been banging on about, and a bit of confidence. To get the goal back right on half time gave us a lift
"When I spoke to the guys the other day there was a determination to make sure that what happened in the cup final didn't happen again. There's a lot of confidence to be taken from the game today.
"Mistakes happen and unfortunately today it was me who made the mistake. I've done that in a derby before so we are even now. For a few minutes you want the ground to open up and swallow you but you've just got to get on with it and stand up and be counted and I thought I did this."
Hibs next game is away to St Mirren on Saturday 18 August.
Photographs by www.jcmackintosh.co.uk