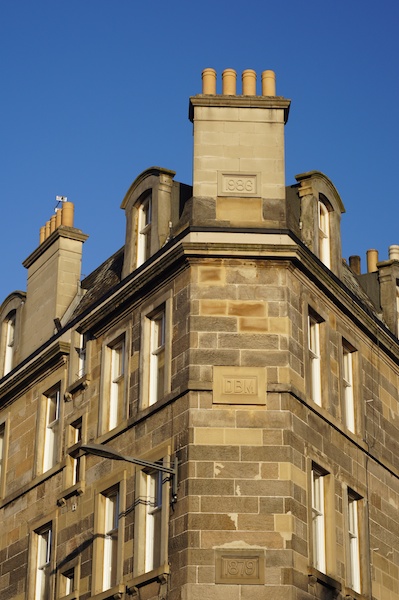 Edinburgh Jazz Festival -International Culture Summit – Turning over a New Leaf – The House @42 tonight – On the buses
We know that our photo today is not from around here.. or at least it is from Leith but simply does not represent the weather today. Others such as The Times have started campaigns against the bad weather. What are you doing to cope? Is every day a duvet day now? We are invited to the photo call today to mark the beginning of the Jazz Festival when New Orleans Jazz band The Stooges will play in Princes Street Gardens. They may of course not come out to play in the rain!  The Festival Carnival takes place on Sunday 22 July 2012 when the artists will take to Princes Street between 2 & 4 pm to liven it up with some jazz. There will also be music in both Rose Street and The Grassmarket.
***
How do the arts enrich peoples' lives around the world and how do they help us understand each other in the Year of Creative Scotland and the Olympic Games? Members of the public are invited to hear answers to these questions and many more when the future of culture and the arts is debated at the Edinburgh International Culture Summit on 13 and 14 August. 10 pairs of tickets are available for each of the four public sessions, with applications due before 31 July.
Taking place at the Scottish Parliament, the Summit sees Culture ministers and leading commentators from more than 40 countries gathering to discuss why culture is important, explore its contribution to social and economic development and compare international approaches to promoting and supporting culture.
The Summit, the first event of its kind, is a collaboration between the Scottish Government, the UK Government, the British Council and the Edinburgh International Festival.
For each of the sessions taking place in the Debating Chamber, chaired by Presiding Officer Tricia Marwick MSP, ten pairs of tickets for the public gallery are available.
Monday 13 August
1430-1600: Welcome to the Scottish Parliament and the Summit.
Includes:
• Reading from Robert Burns' 'A Man's A Man For A' That' by Scots Makar Liz Lochhead
• Performance of 'Cantate Domino! Alleluia!' (Cristi Cary Miller) by National Youth Choir of Scotland National Girls Choir
• Opening remarks by Scotland's Culture Secretary Fiona Hyslop and UK Culture Minister Ed Vaizey
• Speeches and debates exploring the role of the arts and culture in deepening and broadening our understanding of complex relationships between cultures and nations.
Tuesday 14 August
10.00-11.00: Speeches and debate on the topic of sustaining private and public support for culture.
14.15-15.15: Speeches and debate on skills for the future, for the creative industries and the role of technology
17.00-17.45: Closing remarks from Scotland's Culture Secretary Fiona Hyslop, UK Culture Minister Ed Vaizey, British Council chair Sir Vernon Ellis and Edinburgh International Festival director Jonathan Mills.
For more on the Culture Summit, please visit www.eics2012.com  or follow on twitter @CultureSummit.
Applying for tickets
Members of the public may apply for up to two tickets for each session by:
Writing to the Parliament at:
Edinburgh International Culture Summit
Visitor Services
The Scottish Parliament
Edinburgh
EH99 1SP
Emailing sp.bookings@scottish.parliament.uk.
Applicants must supply the following information for each person who wishes to attend.
• Title (Mr, Mrs, Ms, Miss, Dr, etc.)
• First name and any middle names
• Surname
• Previous names (if applicable)
• Address with postcode
• Telephone number
• Email address (if available)
• Date of birth
• Session(s) wish to attend: Monday 14.30; Tuesday 10.00; Tuesday 14.15; Tuesday 17.00. It is possible to apply for more than 1 session.
Ticket applications must reach the Parliament no later than Tuesday 31 July. Tickets will be allocated by a random draw. Successful applicants will be notified by Monday 6 August at the latest and will be given detailed instructions on the arrangements for the event. The Scottish Parliament reserves the right to carry out security checks on applicants.
***
The New Leaf has been run in Marchmont for around 20 years and now some new people want to take it over but are asking for some help.
They have written as follows:-"The New Leaf in Marchmont has been running as a wholefood business for 20 years, and has a loyal following in the local community. After 14 years of hard work, Linda and Derek who currently own and manage the shop are looking to move on. As members of the Edinburgh Wholefood Co-operative, we are working collaboratively with Linda and Derek to take over the business which we will soon be running collectively as a co-operative.

We plan to re-open the doors of The New Leaf at the beginning of September 2012. The New Leaf Co-op will sell good quality, considerately sourced and affordable staple foods. We're going to open up a currently unused back room and pack it full of tasty, unpackaged, loose wholefoods that you'll be able to scoop into your own containers. Pulses, nuts, fruits, grains, cereals… This will reduce waste and packaging and will also make things cheaper for you!

We have worked out that we need £40,000 to cover the costs of business purchase, refitting the shop, opening up the back room, and packing in a wider range of delicious wholefoods (oh and a cargo bike for delivery too, we hope). We have already secured £35,000 from supporters. We are hoping to draw on community support to raise another £10,000 through a larger number of smaller loans. Even though we only need £5,000, we're aiming for £10,000 as it will help us achieve more sooner. We have developed two routes for making loans:  Buzzbnk & Loanstock.

In short, Buzzbnk (http://buzzbnk.org/newleafcoop) is for making loans up to £500 in a quick easy way, and there are different rewards and discounts depending on the amount you lend. Loanstock is best suited for people wanting to lend more than £500, so that we can offer you more flexibility.


Please get in touch if you would like more information about either of these. We also have a Business Prospectus which outlines our plans for the business and our financial predictions. Please email us atinfo@newleafcoop.co.uk

We are still working on our website, but in the meantime you can visit our facebook page: www.facebook.com/TheNewLeafCoop"
***
Sharon King is appearing at the House tonight. If you have not discovered it yet then the people at the House @ 42 say it's time you did! BYOB and a donation on arrival or leaving. Here is the local singer a couple of years ago when she appeared solo. Tonight she will be joined by The Reckless Angels.
***
Lothian Buses are coming in for some criticism of changing routes without notice from some of the Twitterati. But they do have a good information section on their website where the latest news about diversions is as follows:-
"York Place is open to buses and taxis only from Saturday 14 July, buses will continue as normal, except service 8 which returns to using Broughton Street.

For details of city centre and Haymarket bus routes and stops click here.

Current and Planned diversions:

Services 2 18 22 and 35 diverted at South Gyle Crescent, click here for details.

Services 18 and 45 diverted at Gillespie Crossroads, click here for details.

Services 22 N22 35 and 36 diverted at Henderson Street and The Shore, click here for details..

Service 36 diverted at Eyre Place, click here for details.

Services 41 42 and 67 diverted from Waverley Bridge southbound from Monday 16 July, click here for details.

Service 42 diverted at Duddingston Road West, click here for details.

All other services operating on normal route."
Still it leaves us wondering why the number 8 was travelling westbound along Abercromby Place earlier today? We are also a bit worried about the buses on Princes Street but more of that later….