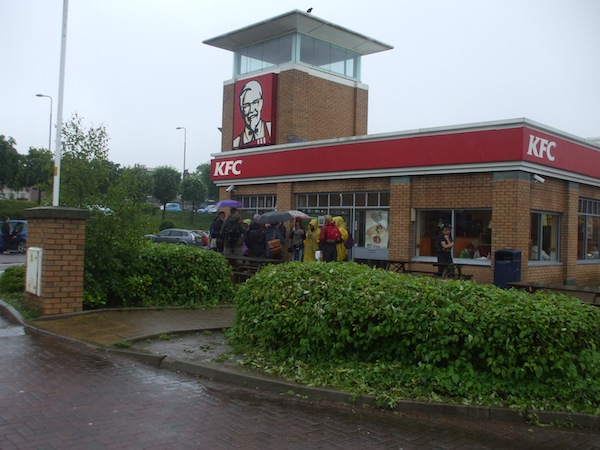 A planned protest by right-wing groups against Kentucky Fried Chicken's policy of selling halal food at Meadowbank Shopping Centre failed to materialise today.
In response to the proposed demonstration, over twenty members of assorted groups under the banner of Unite Against Fascism handed out leaflets outside the front door. The leaflets read 'Scotland says NAE NAZIS' and 'Racists not welcome in Scotland' and several people carried banners reading
Many customers accepted the leaflets, although a small number refused. Representatives of Public and Commercial Services Union and the Scottish Palestinian Solidarity Campaign were present and the demonstration passed peacefully.
Police spoke briefly to various protestors before leaving and maintaining a low profile in the distance. A marked police car gave the matter passing attention, and the group eventually disbanded when it became clear that the far right groups were not attending, and various members continued to leaflet the remainder of the park.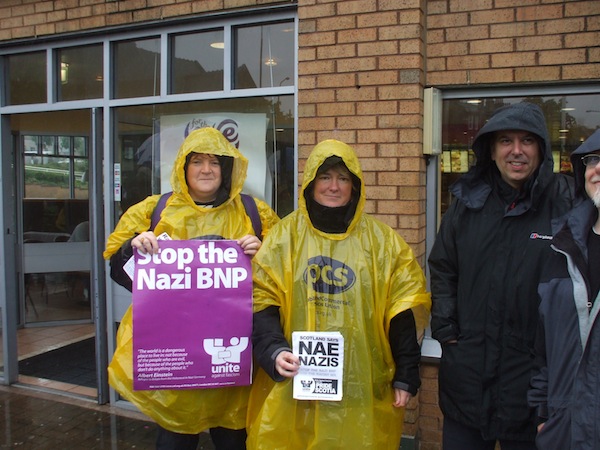 Mike Cowley, Branch Convenor of the Educational Institute of Scotland at Telford College told the Edinburgh Reporter: -"We are here today as part of 'Unite Against Fascism', because we know that the BNP and SDL intend stirring up anti-Islamic feeling by protesting against KFC selling halal meet on the basis that it's cruel to animals. Whilst animal rights is a serious issue, it's comical that they are targeting Colonel Sanders as Islamist and it shows how desperate the far right have become. It's also ironic when the leader of the English Defence League was recently convicted of cruelty to animals, after letting five llamas starve to death. I don't know what happened to their protest; perhaps the rain put them off."
The Meadowbank branch of KFC has become a target since they announced that they would be selling halal chicken, and minor protests have already taken place outside the premises.
A blog on the Scottish BNP website specifically identifies the premises and reads:-"We as British people believe strongly in good animal care. We defend the right to eat meat. We do not believe in animal cruelty. However, the Halal practise of animal slaughter is still allowed by Mr Cameron`s government.
"We say, enough is enough. No more animal slaughter by Halal method. This is Britain, not a Middle Eastern country."
Staff at the shop declined to comment, but a statement on the company website reads:- "At KFC we listen to our customers to help us to evolve our menu and the choices we offer. For some time, we have received requests to provide halal food in parts of the UK and as a result of this; we are running a halal trial within communities where we anticipate a strong demand for halal products."