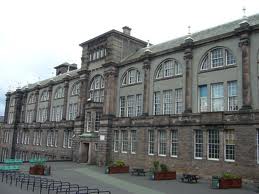 The results of a consultation on the future of Boroughmuir High School show there is majority support for a new build in the Fountainbridge area of the city.
The City of Edinburgh Council published the figures last week ahead of a full Council meeting on 28 June 2012 to discuss the next steps for the project.
Local community groups, individuals and pupils took part in the consultation with 86% of those who expressed a preference choosing the option to build a new school in this location. The other option, to refurbish and extend the existing building at Viewforth, was supported by 14% of those who expressed a preference.
Participants were asked to consider the educational merits of both options after the Fountainbridge site was bought by the Council from Lloyds Banking Group in December 2011. The Fountainbridge site is the Council's preferred location for the school and it is expected that it will form part of the wider development of the canal side and an exciting new vision for the area.
A series of public meetings took place and people were also encouraged to submit their views via email and post.
Education Convener, Councillor Paul Godzik, said:- "I welcome the results of the consultation and am pleased that so many people took part. Both options to redevelop the school were valid, but on balance I do agree with the conclusion that the Fountainbridge site is the best option for the new Boroughmuir High School.
"Pupils and parents have waited so long for progress on this matter. I am delighted the focus now is on delivering a new school that is equipped to deliver the highest standard of education in a first-class learning environment.
"I look forward to working with teachers, pupils and parents in the months ahead, and also for the new school forming a key part of the overall regeneration of the area."Plans will now be drawn up by Allan Murray Architects and work is expected to start on the new Boroughmuir High School in summer 2014. The expected completion date is summer 2016.
Council approval to consult on two options for the future development of Boroughmuir High School was given in November 2011. The consultation period ran from 20 February to 30 March 2012 and four public meetings were held between 5 and 14 March.
A total of 180 representations were received from 177 groups and mostly individuals (3 individuals submitted two responses).Of the 177 respondees, 152 expressed a distinct preference with 131 (86%) being for new build on the Fountainbridge site and 21 (14%) for refurbishment of the existing building.