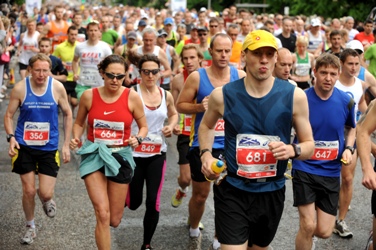 Scotland's biggest running event which celebrates its 10th anniversary got off to a fabulous start today as more than 3,700 people took part in races in glorious sunshine at Holyrood Park in Edinburgh. The first of the two-day running festival in the capital saw 33-year-old Bryan Mackie race to the finish line of the 10K, in just 34 minutes and 12 seconds,winning the race for the second year in a row.
Bryan, 33, an engineer from Edinburgh, said: "I'm ecstatic to win. I was injured earlier this year but I've got some great friends from Edinburgh Athletics Club who have supported me all the way to help me get back on form. Winning today is a tribute to all of them. I'm definitely going to be celebrating with some champagne tonight."
Patrizia Russo was the first woman home, completing the course in 42 minutes 42 seconds. Dad of one, Robert Cushion dropped to his knees then jumped up and punched the air after winning the 5K race in 17 minutes and 40 seconds. Robert's victory was all the more remarkable as he endured open heart surgery to mend a hole in his heart as a 14-year-old, then as an adult fought his way back to fitness after being treated for a collapsed lung.
Robert, 35, of Liverpool said: "I went out there to win today and that's what I did. I'll definitely be back next year to do it again. I dedicate my medal to my four-year-old son, Ryan."
More than 700 youngsters took part in the junior races today with Henry Johnson, 14, of Teeside winning the 3K race for runners aged 11-14 and Josh Abbott, 10, coming top of the juniors aged six to 10 in the 1.5K race. And 13-year-old Marleena Tulkki who was the first girl home in the 3K with a time of 12 minutes and 1 second came all the way from Espoo in Finland to run the race. Her cousin Matt Nieminen, 58, is next up- he runs the Edinburgh Marathon tomorrow.
Marleena said: "It is my first visit to Scotland and I'm very happy to win today. I have won races in Finland before but this is my first international race."
Today's events kicked off with a gentle three mile breakfast run to give elite athletes from across the world a chance to warm up and learn something of Edinburgh's history and admire the city's stunning architecture. Tomorrow the elite athletes will join more than 23,000 runners competing in the Edinburgh marathon, half marathon and relay races. The marathon route which starts in the heart of Edinburgh at Regent Road heads out to picturesque East Lothian, along Scotland's golf coast which boasts 22 courses including some of the oldest and admired like North Berwick, Gullane and Muirfield.
Neil Kilgour, Edinburgh Marathon Festival director, said:- "We are proud that the Edinburgh Marathon Festival is the most inclusive festival of running in the UK. From the world's best elites through to the first time marathon runner, to youngsters standing in the start pen for the first time in their lives, we welcome them all. Each of these people are changing their lives and many are changing the lives of others too through raising vital funds for charity. It is a positive experience for all."
Together with the Edinburgh Marathon Festival official charity Macmillan Cancer Support and hundreds of other charities, the 10th anniversary organisers are hoping to break all previous records and raise more than £4.5 million in 2012. Forth One are doing live broadcasts from the Edinburgh Marathon Festival all weekend.