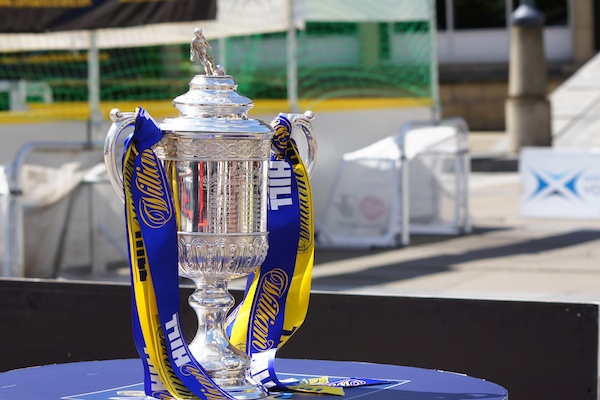 The Scottish Cup was shown off in Festival Square this afternoon to supporters of both of the Edinburgh teams who will be playing for it this weekend.
The public were able to fulfil lifelong dreams of meeting some former Hearts and Hibs stars as well as coming face to face with both of the team mascots. We met up with former Hibs player, Pat Stanton, who is going to Hampden to lend his support on Saturday:-
The event was originally organised by the Scottish Football Association for local school children, to involve and introduce them to football, and pitches with goals were set up.  However, word soon spread that fans could meet their heroes and even get their hand on the Cup!
Spectators were treated to a friendly penalty shoot out between the retired footballers, only three days before the greatest Edinburgh Derby for many years.
We met up with three fans, supporters of both clubs, but still friends! They are all going to the match too:-
Karen McConnell from the Scottish Football Association explained the aims of today's event:-
Peter Black, a Hearts fan gave his predictions for the derby on Saturday:-