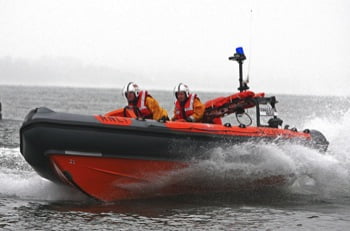 At 4.20p.m. this afternoon, the RNLI Queensferry Lifeboat was launched from the Hawes Pier to go the aid of a heavily pregnant lady trapped on Cramond Island by the tide. The lady, Itayi Makota from Granton, is reportedly due to give birth in about two weeks. She was safely picked up by the Lifeboat crew and landed at Cramond where she was met by relatives and friends who took her to hospital for a check-up.
On the way back to the RNLI Lifeboat Station at Hound Point the crew noticed a yacht becalmed in the Forth. The 14 feet sailing dinghy "Vagabond" with skipper Neil Paton from Ferryfield, Edinburgh was preparing to row back to Port Edgar against the tide and was pleased to accept a tow from the Lifeboat crew, who safely returned him and his craft back to Port Edgar Marina.
So it was not a lazy Sunday afternoon for the crew!