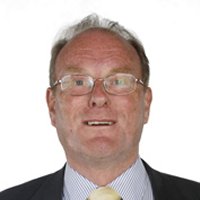 Phil Wheeler is standing down from the council this year.
An East Anglian by origin, Phil came to Scotland to attend the University of St Andrews. He subsequently spent over 35 years working for The Royal Bank of Scotland in a variety of roles, latterly as a compliance manager, and mostly based in Edinburgh. He left RBS at the end of 2001 to join NRS Regulatory Services Limited, an Edinburgh-based financial services compliance consultancy. He remains a non-executive director of this business, where he is also a shareholder.
He joined the Scottish Liberal Party early in his student years, and has been involved with that party and then the Scottish Liberal Democrats with varying degrees of activity ever since. He was elected to The City of Edinburgh Council as councillor for South Corstorphine at a by-election in 2001, and re-elected in 2003. In 2007, he was elected as one of the councillors for the new Corstorphine/Murrayfield ward.
Between 2003 and 2007 he was the LibDem Group's transport spokesman. After surgery in late 2003, he had a spell of sick leave, which coincided roughly with the congestion charging debate.
When the LibDem/SNP coalition was formed in May 2007, he was appointed Convener of the Transport, Infrastructure and Environment Committee.  Following a re-shuffle of the Edinburgh City Administration in May 2009, Phil was appointed Convener of the Council's Finance & Resources Committee. In recognition of this role, in 2010 his professional body awarded him a fellowship (FCIBS).
Since 2005, he has represented the City Council on the boards of SEStran and tie Limited – the latter until the summer of 2011 – and on the board of FETA (the joint board which operates and maintains the Forth Road Bridge) since 2007. The lead role at FETA alternates between Fife and the City of Edinburgh; for two years from July 2009, he served as convener of this joint board; perhaps the high spot of his political career was his trip to the top of one of the Bridge towers! He is now vice-convener of FETA.
In 2011, he announced that he would be retiring from the City of Edinburgh Council at the election in May 2012.