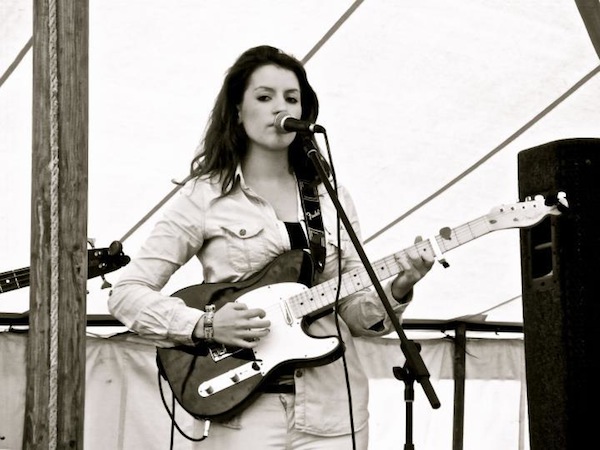 Local talent shines in the UK's biggest original music competition!
Edinburgh schoolgirl, Catherine Thomson, has wowed the judging panel of the UK's biggest original music competition and sailed through the audition stage of Live and Unsigned. Catherine will be competing against the most talented bands and artists in the country at the Regional Final Showcase of Live and Unsigned 2012 – all in a bid to make the Grand Final at The O2!
Catherine battled against hundreds of auditionees to secure a spot in the live shows. Acts that made it through auditions will now take part in a live Regional Final Showcase in front of hundreds of spectators. The best acts will also get the opportunity to play at some of the biggest festivals in the UK from over 100 Festival slots including Beach Break Live, Boardmasters, Bearded Theory, Strawberry Fields and Osfest. This year's competition also offers acts an extra chance for exposure as being filmed for broadcasting on the Sky TV Network in an exclusive fly-on-the-wall documentary.
Live and Unsigned is the biggest original music competition in the UK for unsigned bands and artists. Attracting over 50,000 entries in the past five years, it has set itself apart from its predecessors by offering and promoting originality. It's now established as the definitive music competition for original acts and it's open to all genres of music from Heavy Rock to Rap.
Chris Grayston, Events Director of Live & Unsigned said: "Live and Unsigned is all about originality, live ability and credibility. We don't accept demos or submissions and everyone auditions live. We've got some fantastic prizes up for grabs this year in a £100,000 prize pool, including a new main cash prize of £10,000. The festival slots and other prizes available make this year's competition our biggest ever!"
All the acts in the competition are battling it out for the chance to play at Live Fest at The 02 in London. The Grand Final is incorporated into London's biggest indoor festival in July. The winners will be crowned the UK's best unsigned act. Celebrity judges involved in previous years include former Slade front man Noddy Holder, R'n'B star Shola Ama, Radio 1's Annie Nightingale, Ras Kwame, Tom Deacon and Daniel P Carter, as well as members of top bands such as The Libertines, The Bloodhound Gang, Funeral for a Friend and Kids in Glass Houses.
Acts will be competing for the main prizes which include; £10,000 to be spent on development, a further £10,000 publicity investment, gigs from over 30 festivals including from Canada, Sweden, Italy and Latvia, a UK tour of up to 100 shows and a UK festival tour including the winner guaranteed slots at over 13 festivals including Norfolk Spectacular, Boardmasters, Strawberry Fields Festival, Brownstock, London Summer Jam, Bingley Music Live and Butserfest.
Live and Unsigned has partnered with musician's website Music Radar to offer a comprehensive winners prize pool. Acts will have the opportunity to win some fantastic prizes along the way to the final including BlackStar and TC Electronic amps, Natal drum kits, Fret King Guitars, £15,000 in recording studio time plus music development classes.
And one contestant who has caught the eye of Judges this year is local talent Catherine Thomson, now competing in the Regional Final, after making it through the auditions beating hundreds of other hopefuls. Catherine is now preparing for the Regional Final Showcase on Saturday 31st March at Glasgow's Royal Concert Hall for the opportunity to progress towards the Grand Final at Live Fest at The O2 in London.
Catherine was born into music. She decided early on that she wanted a career in music and performance. Nobody pushed her into that decision, despite the fact that her father performs and records professionally, and her mother – who was once part of the management team for Simple Minds and China Crisis – continues to work in management and promotion.
She began writing music when she was 9 years old. At least, that was the first music she had composed entirely on her own. She had been co-writing and recording with her father since she was five. It hasn't stopped. Now she writes material that she performs regularly, both solo and in the band she is a member of – 'Work and Weather'.
Lessons came early. Singing and Piano from age 6. Bass and Classical Guitar at age 15. St. George's School really gave her an opportunity to widen her musical appreciation and become involved in many different aspects of music. She sings with the Jazz Band, is a member of the Cantata Choir and The St. George's School Choir. She has toured Germany, Canada and the United States. The music education she has received at St. George's has given her a deep understanding of music history, composition, score evaluation, aspects of performance and music theory. Thanks to St. George's she has Grade 7 Singing, Grade 4 Guitar and a Trinity Performance Award. By the end of next year she is confident shewill have Grade 8 Singing, Grade 5 Guitar and Grade 5 Theory.
Last year, Catherine won the Music2Be competition – chosen as the 'Best Unsigned Music Artist' in an event that drew competitors from all over Scotland. She began performing regularly, but found she wanted a full band to perform with – a move that she saw would give her a stronger opportunity to 'headline' events.
'Work and Weather' is a four-piece group that now regularly performs in clubs and local festivals and has attracted a growing audience. In the past year Catherine says she has learned so much. She is very aware of the changes in her, not just in how she writes and rehearses songs, but in how she presents her music on stage.
Catherine is now in her last year at school and has been accepted by Brighton for a 3 year BA (Hons) Degree Course in Professional Musicianship (Songwriting) and heads off to Brighton in October this year. In the meantime, she is concentrating on more solo work as well as her writing and entered another competition "Live and Unsigned" which took place last weekend in Glasgow. She is through to the live shows and the regional finals of Live and Unsigned, where the competition gets serious as only a few acts in each Regional Final will progress to the Area Final and a step away from the performing at The O2 in London.
For more information go to the website www.LiveandUnsigned.UK.com. Or better still get along and support your local talent; you can purchase tickets from the website http://www.liveandunsigned.uk.com/tickets/purchase