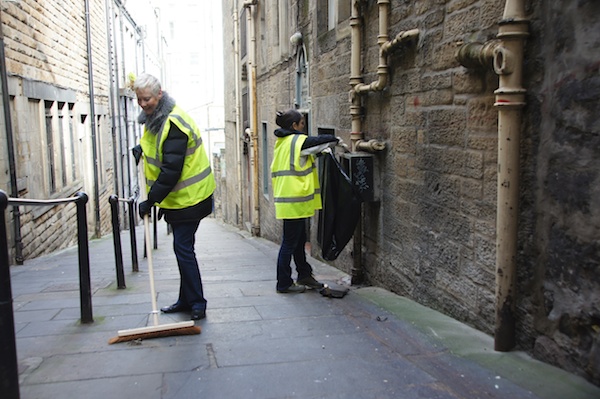 This week Scotland's most historic street – the Royal Mile – is being given a fresh look in time for spring as Council staff, residents and businesses come together to spruce up the thoroughfare.
From Tuesday to Thursday this week volunteers are tackling a range of issues such as graffiti, litter and weeds aiming to make the Royal Mile as attractive as possible for both residents and visitors. Some of the volunteers we spoke to today are workers with The City of Edinburgh Council and Lothian Buses.
The move follows a workshop organised by The City of Edinburgh Council in January to debate the future of the street, which has a world-wide reputation for its history, architecture and culture.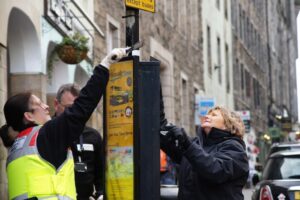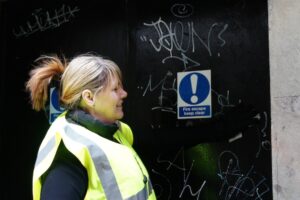 Around 100 residents, local businesses and other stakeholders met to agree an action plan to improve the area and a 'spring clean' was one of the actions at the top of the list. One resident The Reporter spoke to commented that it was a pity that more residents from the immediate area were not present this morning to help with the clean-up.
Councillor Tom Buchanan, Economic Development Leader, said:-"This week's clean-up aims to improve the look and feel of the street in this World Heritage Site. We want to involve as many local residents, businesses and other stakeholders as possible in order to ensure that the Royal Mile remains a must-see destination and a positive experience for visitors coming to Scotland.  It must also meet the needs of residents who use it every day. This is not just a short-term examination of the street – it will be an ongoing project, with the aim of maintaining the street in the long run."
A range of activities will be taking place during the course of the three days. There will be repainting work done at Castle Hill, graffiti removal on the High Street, litter pick ups and general cleaning in the Canongate along with the removal of stickers that cover signposts and utility boxes.
The red historic telephone boxes will also be cleaned during the three days.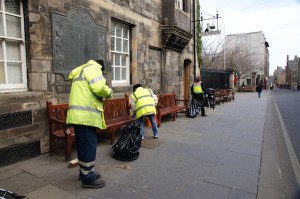 Four teams will focus on four different parts of the Royal Mile – Castle Hill and the Lawnmarket, High Street to the North Bridge, High Street to St Mary's Street and the Canongate.
This is the first in a programme of initiatives intended to help to make the most of this historic street and encourage all stakeholders to build relationships and work together for positive change.