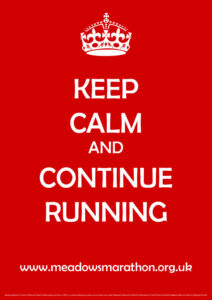 Highland Spring, the UK's leading supplier of bottled water, have donated 2004 litres of their organic bottled water for the runners in this year's Meadows Marathon taking place on Sunday 4 March 2012. The event, which includes a marathon, half-marathon and fun run in Edinburgh's Meadows, attracts people from across the country, and other businesses have donated prizes for the fastest runners on the day.
Yelp have provided runner's wrist bands and prizes for the runner's goodie bags, Bannatyne's Fitness are hosting a warm-up session, Ashley Sports Massage will be on hand to provide massages and Rekorderlig Cider, Wrigley's and the Macdonald Hotel North Berwick have all contributed to this year's prizes and/or on-the-day entertainment. If other businesses are able to donate something to the fundraiser they are being encouraged to contact sponsorship@meadowsmarathon.org.uk.
In other news regarding the event, the Meadows Marathon team will be taking over Edinburgh's Shanghai nightclub on George Street on 23 February 2012. Entry is free and anyone who quotes 'Meadows Marathon' on the door will be entered into a raffle which contains two prizes worth £200. Entry is from 10:30pm.
Those not running on Sunday 4 March will be able to attend the free open-air concert in Bristo Square. The line-up consists of acts such as the Edinburgh University Jazz Orchestra, Panda Trap, The Gold Lions, Kung Fu Academy, Tom Vevers, Bwani Junction, Kirsty Keatch and Sam Porter.
Norma Prentice, headteacher of Drummond Community High School, is training for the London Marathon and is taking a class of girls and training them to run the Race for Life and has also persuaded them to use the Meadows Marathon fun run as a test run. The girls are all aged 12-16 and are planning to dress as the Pink Ladies from Grease. Fancy dress makes a regular appearance at the event – in the past there have been three-legged runners, blindfolded runners and people lugging water barrels. All crazy ideas are considered but must be cleared by the organisers before the day.
Peter Craig and Michael Nowicki have been blogging about their training and it's not too late to join them and the hundreds of others on the day.
The full marathon is £25 to enter and the half marathon and fun run are £15, with entrants also encouraged to set up Virgin Money Just Giving pages to raise funds for charity. Last year over 800 runners raised nearly £40,000 for a number of different charities based in Edinburgh and beyond. You can sign up and find more inspiration at www.meadowsmarathon.org.uk and explore the event on Facebook and Twitter.