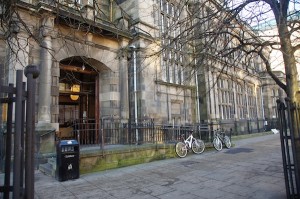 Authors Iain Banks and Ken MacLeod have joined local campaign groups in the fight against cuts to Edinburgh's library services.
Edinburgh East Save Our Services, Greater Leith Against the Cuts, and Unison members working in the city's libraries are calling on the council to reconsider their decision to reduce staffing levels and opening hours.
A public meeting has been planned for Monday 5th March at 6:15-7:45pm, in McDonald Road Library to discuss the changes. Representatives of community groups, Unison stewards, and Ken MacLeod will be speaking. Councillors from North and East Edinburgh have been invited.
Reacting to the news of the budget cuts, Mr MacLeod said:- "Free public libraries have been important to me all my life. Any cut in library services is a hit on the self-education and self-directed entertainment of everyone, and particularly on those who can least afford to lose them."
The group claim that although the council have called the service changes an "improvement", some libraries will see their opening hours reduced by up to 20%, with some closed all day on Thursdays. All temporary and agency staff working in libraries have apparently had their contracts terminated, and vacant posts have been removed, although managers have declined to provide confirmation of the number of people made redundant. There has also been a £147,000 budget cut for the new Drumbrae Library Hub, and this year's budget for new books has had to be reduced according to the campaigners.
The group conclude:-"These changes will threaten libraries' ability to deliver popular outreach programmes like Book Bug sessions for children aged 0-3, Chatterbooks reading groups for older children, or Library Link for elderly and disabled people. It also means that there will be fewer staff on duty to assist members of the public, leaving some smaller libraries with only one member of staff on duty at certain times of the day."