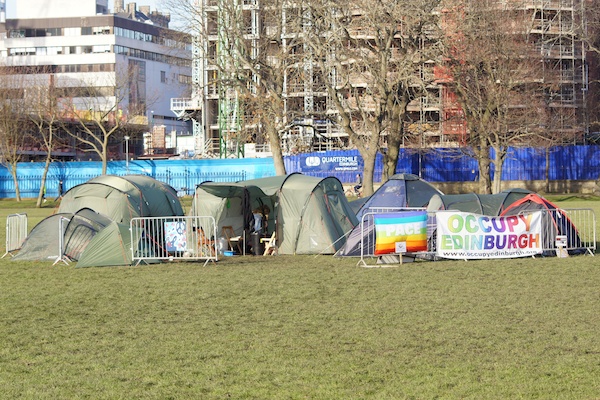 Leith Biomass no more
More money for cycling
Occupy Edinburgh
RNLI Queensferry
Music @42
The various groups who have been campaigning against Leith Biomass were dancing in the streets yesterday when it was announced yesterday that Forth Ports were withdrawing their application for a plant in Leith.
MP for Edinburgh East, Sheila Gilmore, has praised community activists who have fought plans to build a biomass power plant at Leith Docks.
Forth Energy, a joint venture between Forth Ports and SSE, proposed constructing a large scale biomass plant on undeveloped land at Leith Docks. Forth Energy today pulled the plans in anticipation of new plans for the former Port of Leith.
Ms Gilmore, who has referred to the plans as "greenwash" in the past, welcomes Forth Energy's decision to withdraw the plans.
Commenting on the decision, Ms Gilmore, who submitted her own objection to the plans and has campaigned consistently against the plans, congratulated residents:
'Activists and residents across Leith have fought tirelessly to block these plans for a biomass fired power station by Forth Energy.
'With very few funds the No Leith Biomass group have been able to reach out to the whole community in Leith and the rest of Edinburgh. I hope they are truly proud that their efforts have been successful.
'This is a true David and Goliath tale. I want to pass on my congratulations to everyone who signed a petition, hung a poster in their shop window, or wrote an objection to the Scottish Government.
'Forth Energy's plans would have been a blight on Edinburgh's skyline and were incompatible with the Scottish planning framework. 'If Forth Energy do come back with any further plans for Leith Docks, they need to take this opportunity to back genuinely renewable energy projects.'
However the following comment from Forth Ports indicates that they may have plans for a smaller Combined Heat and Power (CHP) plant in their revised design for the area.
Calum Wilson, Managing Director of Forth Energy, said:
"Much has changed since we first applied for permission to build a CHP plant at Leith, not least the Port's emerging status as a hub to support the Scottish offshore renewable energy industry.
"We remain fully committed to bringing reliable, responsible, renewable heat and electricity to Scotland through our proposed developments at the Ports of Grangemouth, Rosyth and Dundee and, in the process, assisting the Scottish Government in achieving its ambitious 2020 renewable energy targets. Once the configuration of the Port of Leith has been established, we will re-assess the opportunity and industrial demand for renewable energy and heat at the Port."
***
Friends of the Earth Scotland are also celebrating the fact that The Scottish Government has revised its budget plans to spend an extra £13m in the next three years on Active Travel, or cycling and walking.  This follows a highly successful campaign to draw attention to the need for more money to be spent on this area. However the charity has warned that spending £72m on road building will prevent the government from meeting its own climate change targets, and that those concerned about this should use the upcoming local government elections to lobby for change.
The City of Edinburgh Council approved £500,000 to be spent on repairing potholes in the city which might help both cyclists and drivers, although yesterday's council budget mentions a total of £3m to be spent on road repairs including potholes. The budget also earmarks the sum of £250,000 to be spent on sustainable transport.
***
Occupy Edinburgh may still be back at Edinburgh Sheriff Court today to hear whether they are to be legally evicted from their latest camp in The Meadows even if they have, as they promised, cleared the campsite. Apparently they did this in return for some assistance from the council, as reported in the Edinburgh Evening News.
On hearing about the apparent deal with the Council The Reporter  spoke to City Centre Councillor, Joanna Mowat, who said:-  "Occupy are a political pressure group making political points.  They should be treated as such.  They should enjoy exactly the same access as any other such group would to council property and facilities.  If they wish to apply for grants they are welcome to do so and their application will be assessed in the same way as any other group.  There are many groups in the City looking for funding and support and it is the duty of the council to assess these requests fairly and not to afford those who shout loudest special treatment."
***
Local residents who have volunteered to have vital environmental monitoring stations to measure and record dust, noise and vibration throughout the five year construction period of the new Forth Crossing were asked by the Forth Crossing Bridge Contractors to nominate a worthy cause to receive £500.00 as a thank you. This was also to benefit the wider community, and is a gesture that will be repeated over the five years. Three local residents nominated the RNLI Queensferry Lifeboat Station.
Douglas Ross from Linn Mill, Mr and Mrs Mike Baynham from Society and the manager of Port Edgar Marina and Sailing School Adam Cruttenden.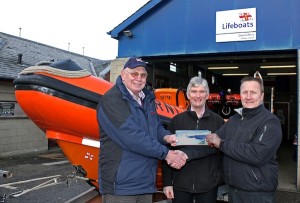 Pictured presenting the £1500.00 cheque is Adam Cruttenden, centre Ewen Macdonell, Forth Crossing Bridge Constructors Community Liaison Officer and RNLI Queensferry Lifeboat Station Operations Manager Tom Robertson MBE on left.
Carlo Germani, Forth Crossing Bridge Constructors Project Director, said:-"Over the five years the construction will have a big impact on the local community and we want that impact to be as positive as possible at all times. We hope that this will say thank you to the whole community and reward the neighbourliness of the people kind enough to accommodate our monitoring equipment on behalf of the area."
***
House concerts @42 have told us that they are staging some jazz tomorrow night. They say:- "Breach are a superlative jazz trio from just down the road: their album is named On the Walk in homage to Leith Walk. All members of the trio have previously delighted audiences at the house in different line ups, but this will be the first time they've appeared together. Left to right in the photograph we have Graeme Stephen on guitar (previous appearances with Becc Sanderson,  Confluence and Fraser Fifield), Paul Harrison on piano (appeared with Martin Kershaw previously), and Chris Wallace on drums (Confluence). Can't think of a better way to spend a Saturday evening."
You can hear some of their music here.
The gig starts at 8pm (doors open at 7.30pm). To book please email info@douglasinscotland.co.uk Tickets are £10 with every penny going direct to the musicians.