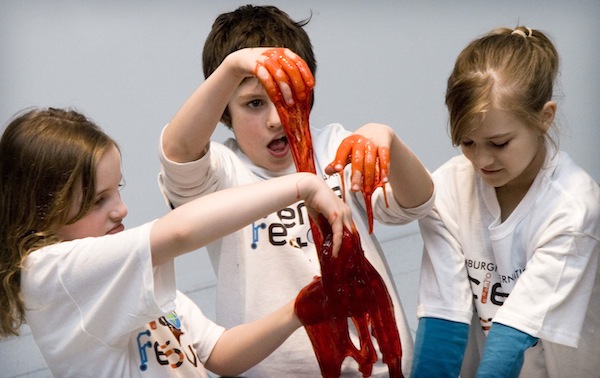 From foraging for breakfast to the psychology of dancing, from clothes that clean the air to walking across hot coals – the Edinburgh International Science Festival is back in town.
Things have started already in St Andrew Square with Invisible Worlds, a free exhibition of remarkable images that explores everything from the microscopically small to the astonishingly enormous, all revealing new perspectives on things normally invisible to the naked eye. The exhibition is open every day from now until 15 April 2012.
But it's from 30 March that Edinburgh will be properly over-run by all things scientific. As ever, there's a huge programme of events for kids and families, and the Festival takes over several city venues to allow youngsters to get involved. The City Art Centre is turned into a huge science playground, where you can take part in a robot chariot race, go on a jungle safari, dig up a dinosaur and even make your own scabs at the Blood Bar.
There are tall tales and scientific stories at the Scottish Storytelling Centre from 2 to 9 April, and it's food that's on the menu at the Royal Botanic Garden, where you can discover where our food comes from, how our bodies fight disease, and take part in chocolate making and tasting.
New for this year, and tying in neatly with the 2012 Olympics, is InMotion, a series of events celebrating human movement in sport, technology and dance at the National Museum of Scotland. So get your dancing shoes on for some workshops with Scottish Ballet and Dance Base, test your strength against elite athletes, and discover how robotics are making artificial limbs even stronger.
From whisky tasting to analysing dreams, and even discovering the secrets of sexual attraction, there's an equally full programme of adult events. High-profile visitors include Derren Brown, who will be in conversation with Richard Wiseman, and TV psychologist Dr Raj Persaud, who launches a unique experiment to discover how our beliefs affect our success.
Respected climate scientist James Hansen is the recipient of this year's Edinburgh Medal, and his address to the Festival looks at how we can ensure a healthy and prosperous future for the next generation and beyond. Climate change is also one of the topics in Richard Wiseman's series of three short Beginners' Guides at the National Museum of Scotland (the others are evolution and physics) so if you need to understand what we're facing, you know where to go.
All this and a film season at the Filmhouse, a sensuous sensory dining experience and a packed comedy programme. You'll never look at science in the same way again.
Edinburgh International Science Festival, 30 March-15 April 2012