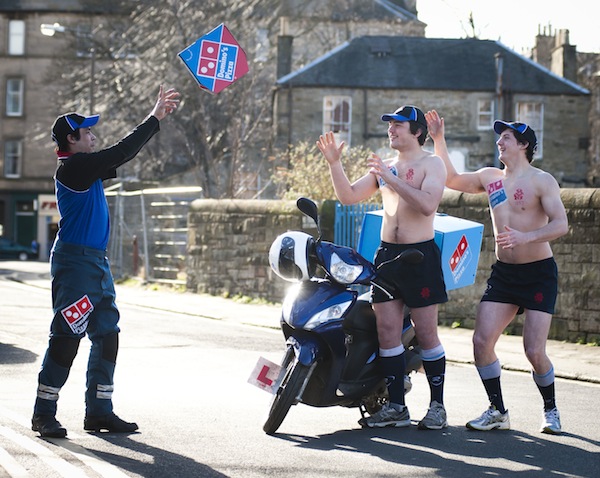 A couple of Accies boys gave Stockbridge something to cheer about yesterday as they 'tried' out the new Domino's store in Stockbridge!
It's all work and no play for the boys from Edinburgh Accies Rugby team sponsored by Domino's Pizza, as they show their support for the new Domino's store launch in Stockbridge which opened officially yesterday afternoon.
Tom Drennan (22) and Jamie Sole (22) volunteered their bodies and painted themselves in the trademark colours to represent the brand. The new store, located on Raeburn Place, will come as a welcome employment boost to the area with the creation of 30 jobs.
Franchisee for the new store, Sean Geddes, has recruited within the community for trainee managers, trainee pizza makers, customer service representatives and delivery experts. Sean commented:- "We like everyone who works with Domino's to demonstrate a sense of fun while working under pressure, and we're delighted the boys from Edinburgh Accies were able to help us 'try' out the new store offering for the local community in Stockbridge."