Billed as "the walk of your life", the Caledonian Challenge is a 54 mile trek in 24 hours, so it is not for the faint hearted but is an event that gives participants a real sense of achievement.
Participants will be taken through some of Scotland's most famous, remote, rugged and stunningly beautiful landscapes between 16-17 June 2012 , including Fort William, Kinlochleven and Inveroran.
Participants in the 2012 challenge can choose to take part in the full 54-mile hiking course, or else can opt to either run the 26-mile marathon section in 6 hours or complete a 26-mile hike in 12 hours.
The Caledonian Challenge was founded by two Scots, Angus MacDonald and Alex Blyth, in 1996. Inspired by a walking event in Hong Kong, they wanted to bring a similar challenge to Scotland's rugged and beautiful West Highland region. Since its inception, the Caledonian Challenge has grown from just 17 walkers raising £16,000 to become Scotland's top charity endurance event, frequently attracting more than 1000 fundraisers every year.
The event regularly raises £1million each year for the Scottish Community Foundation, helping enhance the lives of thousands of people in Scotland through much-needed local community based services and projects. Since 1997, the Caledonian Challenge has raised a total of more than £11m for the Foundation, helping fund projects that range from youth theatres to elderly support groups, drugs advice services to healthy eating initiatives
The Foundation is a registered Scottish charity which specialises in helping philanthropic individuals and organisations give money to charity. The Foundation is one of the largest and busiest private grant-making bodies in Scotland. More information can be found at www.scottishcf.org.
The Caledonian Challenge offers entrants 'The Walk of Your Life' – with the goal for teams of 4-6 adults to complete a 54 mile course in 24 hours, whilst helping to support some of the UK's most isolated communities.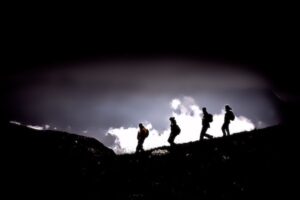 The epic journey takes participants through some of Scotland's most famous, remote, rugged and stunningly beautiful landscapes. Starting just north of Fort William at Gairlochy, teams will walk parts of the famous Great Glen Ways and West Highland Way footpaths via Checkpoints at Fort William, Kinlochleven, Glencoe Mountain Centre and Inveroran, before finishing the Challenge at Auchtertyre.
The Caledonian Challenge is a spectacular outdoor adventure and a satisfying physical challenge that requires months of training and team building to undertake, but one that provides Participants with a once-in-a-lifetime sense of accomplishment and pride upon completion.
The Caledonian Challenge attracts participants from all walks of life and adults of all age groups – including corporate go-getters, young professionals, middle-aged mums, fitness fanatics and hardened fundraisers.
While participants are usually UK-based, the event also attracts entrants from other countries around the world.
To take part in the 2012 Caledonian Challenge, you will need a team with a minimum of 4 people and a maximum of 6 people..
For the 2012 event, teams can arrange their own support crew or – for the first time – purchase a support package directly from the event organisers for an additional fee. As part of this package, participants will be able to book:
Coach transport to and from the event
Friday night accommodation in Fort William
Meals at every checkpoint
Baggage transfers
This new option is designed to help participants save money, time and effort, and thereby make it easier to take part, as well as to generate additional fundraising for the challenge.
The minimum pledge required for participation in the 2012 event is £400 – down from £500 in 2011 and lowered to help Participants raise more for their favourite good cause.
Entrants pledging to raise more than the £400 minimum will be able to personalise their donations by providing the additional funds to nominated good causes or specific charities of their choice – rather than having all of their money being donated to the SCF.
All entries must be submitted before the deadline of March 31 to secure a place on the 2012 challenge.
Entries submitted by February 14th will be eligible for an early bird discount – which could potentially allow teams to sign up for as little as £100 per person.
Every team is also entered the Caledonian Challenge's Trailblazer League, which adds them to the most relevant business sector-based league and allows them to compete against their industry peers for points.
Points are awarded for performance in the three integral challenges of the event:
Physical Challenge – how quickly can your team completes the course.
Team Challenge – how effectively your team works together and supports each other, as evidenced by the number of team members to cross the line.
Fundraising Challenge – how much money your team raises.
In addition to the main 54-mile course, 2012 will mark the first time that a 26-mile option will be offered between Glen Nevis and Glencoe for participants to tackle. The new course offers Participant a choice of a superb one-day hike or a stunning off-road marathon for runners and endurance athletes.  The 26-mile course can either be run by Participants in 6 hours, or hiked in 12 hours.
Participants may also share the funds they raise with a good cause close to their heart. The event is owned by the Scottish Community Foundation whose support effectively subsidises the entry fee. In return for this, Participants are asked to raise a certain amount to support the Foundation's work. For 2012, this has been reduced to £400, so that more of the funds raised by Participants can go to a good cause or a particular charity chosen by the team.
For the first time, the 2012 event will also provide selected charities with the chance to secure golden bond places, similar to those operated by the London Marathon. This will allow charities to purchase places on the event at £200 per person and sell them onto their supporters – and will also enable each charity to receive 100% of the funds that their supporters raise on the event.
The success of The Caledonian Challenge is helped immensely by the work of around 250 volunteers, who work with the events team to ensure the smooth running of registration, checkpoints, water stops, trail management and numerous other aspects of the event.
The 2012 Caledonian Challenge has a number of volunteer opportunities available, including Volunteer Marshals, Checkpoint Chief Marshals, First Aid and medical staff, physiotherapists, administrators, photographers and film crews. Anyone interested in volunteering to work in any of these areas should contact:  volunteer@caledonianchallenge.com