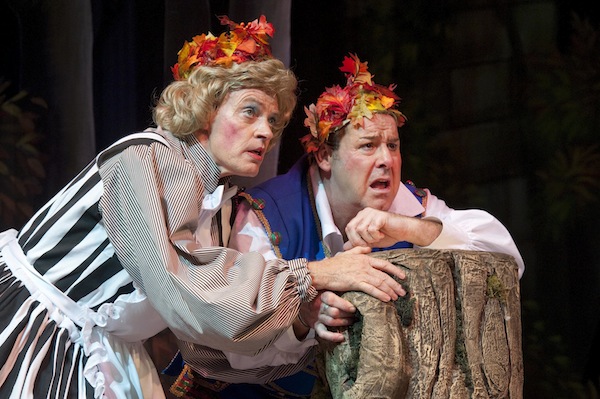 The King's Theatre's panto offering this year is a riot of colour, fast-paced and full of infectious energy. Even before the show starts, the atmosphere in the auditorium is electric, and the barrage of fun doesn't stop until the final number, which has the audience on its feet.
The stars of Cinderella are, as ever, the trio of Allan Stewart (Baroness McSquirrel), Andy Gray (as a Buttons rather getting on in years) and the towering Grant Stott as the dreadful ugly sister Gobina McPhlegm. It's a sheer pleasure to watch them in action – there's a remarkable chemistry between the three, full of ad libs and knowing looks, and they seem to be having as much fun as the audience is.
Stott's ugly sister sidekick Hocktoo is the diminutive Ross Marshall, who's reduced to a limited vocabulary of 'aye' and 'no' throughout – perhaps robbing the character of potential laughs. But it makes his eventual revenge on his sibling all the more delicious.
Joanne Thomson and Paul Leubke are suitably starry-eyed as Cinders and the Prince, and they sing well, too. Leubke's flashing of his six-pack early on threatened to bring the house down. David Haydn as the Prince's retainer Dandini was strangely open about his liking for 'big burds' – he quickly fell for the sadistic charms of Gobina. Katy Heavens is a sweet but streetwise fairy.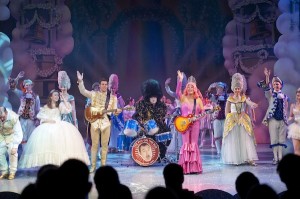 It's a shame that the sound wasn't always as clear as it could have been, so that song lyrics were sometimes lost behind the music – played live by an able band led by Richard Anderson. The sets (designed by Hugh Durrant) and lighting (Chris Wilcox) are worth the visit on their own – they're spectacular, detailed, and make full use of all the historic auditorium has to offer.
Just two pieces of advice. If you're sitting in a box, you might get a visitor. And if you're late, there could be some special entertainment just for you.
Cinderella continues at the King's Theatre until 22 January