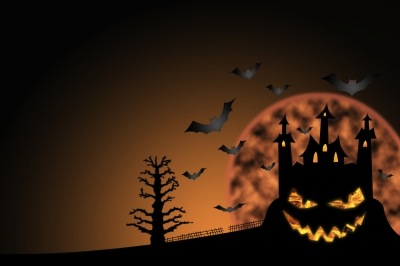 Children generally love Halloween, from the dressing up, to the scary stories, to the thought of sweets and treats while out  guising. (None of that trick or treating here…)
There are plenty of things to do to in Edinburgh to ensure that they enjoy the creepiest time of the year, only leaving them to decide what scary costume to put on this year. From storytelling, to arts and crafts, there is something for every budding ghost or witch to do in the city this Halloween.
There are several events on this week for children at different locations throughout the city involving spooky storytelling.
At Sighthill Library, there will be an hour of scary stories for 5-10 year olds at 2.30pm on 28 October 2011.  Dalkeith Library is hosting a ghost story and crafts afternoon on the same day at 1pm.
At The Hub, near the castle, The Scottish International Storytelling Festival ends with Hosting the Spirits – an evening of traditional eerie stories, as well as music. It takes place on 30 October 2011 at 7.30pm, so is probably more suitable for older children and adults. Tickets cost £10.
Halloween Activity Day: Waterstones book store at the West End is hosting a fun afternoon of crafts, activities and storytelling, all with a Halloween theme. There will be prizes for the best costume, and it promises to be a fun afternoon for children to unleash their creativity. The event takes place on 29 October 2011 between 12 and 3pm at Waterstones on Princes Street. Entry is free.
Halloween Disco and ghost tour: Just outside the city centre, The National Mining Museum Scotland is hosting a fancy dress disco and scary disco, with refreshments and games. It is strictly for primary school children only, and tickets cost £5 each. The disco is on the 31 October 2911 at 6pm at The National Mining Museum Scotland, Newtongrange.
Stingy Jack at the Edinburgh Dungeon: It can be difficult finding ways to entertain older children and teenagers this time of year, but there are few places in Edinburgh more suited to Halloween than the Dungeon, located on Market Street. The current tours and exhibits alone are enough to scare anyone witless, however, for the next few days the character of Stingy Jack is to be walking the dungeon, popping up where unsuspecting visitors least expect him. Stingy Jack is a legendary character, who was doomed to wander the earth for eternity, unable to enter heaven or hell, with a turnip lantern in his hand. He will be appearing from now until 31 October 2011. Tickets cost from £11.20 to £16.20 for adults and £7 to £12 for children. Under 16s must be accompanied by an adult.
Holyrood Halloween: Holyrood is hosting an afternoon of traditional Halloween fun and games. A witch and druid explain the pagan origins of the festival, and then children can take part in Halloween activities including ducking for apples. There is also an opportunity to go for a walk with a ranger to the Crags, which promises to be "spine tingling". Booking is advised. The event takes place between 3 and 7pm on the 29 October 2011. Tickets are £3 for adults and £1 for children. More information can be found here.
Image: vichie81 / FreeDigitalPhotos.net