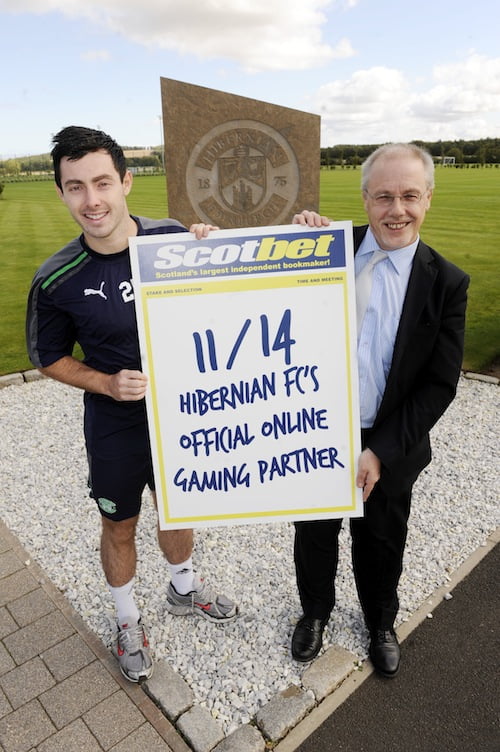 Hibs star Richie Towell with Scotbet area manager, Willie Lynas.
Scotland's largest bookmaking company Scotbet is the new and official online gaming partner for Edinburgh's Hibernian Football Club.
The partnership will see Scotbet provide online mobile and interactive gaming facilities via its website for Hibs fans across the world, as well as locally. Scotbet is now also the official sponsor of 'Hibs TV' which has rapidly grown to over 1000 subscribers making it the eighth largest of its kind in the UK.
The Hibs partnership is the first step in Scotbet moving towards a fully integrated front and back end platform offering all gaming services within a single wallet, as announced by the company's new CEO Graham Martin and non executive chairman John Heaton in July this year. The two world-renowned international gaming experts, who have over fifty years' experience in the sector, aim to take the popular high street brand to the worldwide stage by significantly improving the company's overall presence.
There are also plans for in-play betting where sports fans can make wagers on their phones, iPads or PCs during a match or any other event, wherever they are, day and night, greatly enhancing betting entertainment for Hibs fans.
Graham Martin, former chairman of the world's leading mobile gambling business Probability Games Corporation (now known as Probability PC), says: "We are delighted to be a partner with Hibernian Football Club in developing this new service for
Hibs fans because, as Scotland's largest bookmaking company, we are passionate about supporting Scottish sport and providing fans with the very best leisure experience.
"With 64 shops across Scotland, Scotbet has traditionally been a shop-led business, with a new branch opening next month in Letham, however the previous management did not provide customers with modern methods of placing bets – this is now changing."
Russell Smith, corporate and commercial manager for Hibernian Football Club, says: "We are delighted to welcome Scotbet as our official online gaming partner to the Hibernian Family; an established and respected brand in Scottish sport.
"Our partnership demonstrates a clear commitment to raising the profile of the Scotbet.com brand, products and services via Hibernian Football Club's online portfolio. We are looking forward to developing a successful and proactive partnership over the next three seasons."
Scotbet area manager Willie Lynas, who has been with the company for 23 years, says: "The Hibs partnership is a fantastic opportunity for us as we aim to cater for our punters' needs and Scottish football is very important to our customers as an exciting and relevant betting medium.
"With 22 Scotbet branches in Edinburgh and the Lothians, being involved with Hibs is something we see as ideally fitting in with our plans for the business. We intend to bring new and varied opportunities to the football fans in the stadium in order to enhance their match-day experience. Special offers, half-time betting, next-scorer betting and many other quirky and new markets will be available – we want to make football betting fun so watch this space for our new offers!"
The Scotbet board is constantly investigating potential venues in which to open new shops, as well as online opportunities. As a result of these endeavours new jobs have already been created at the new Scotbet outlet in Letham, and in providing online services at Easter Road.