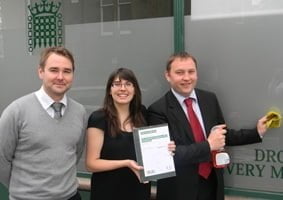 Edinburgh South MP, Ian Murray, can proudly declare that his constituency office is cruelty-free. Ian has taken the step to ensure that all the cleaning and household products used are cruelty-free, only using those approved under the BUAV's Humane Standard symbolised by the Leaping Bunny mark.
Ian Murray has joined forces with the BUAV to Clean Up Cruelty; supporting the campaign to end animal testing for household products and their ingredients. This follows Edinburgh City Council voting to move towards only using cleaning products certified cruelty-free by BUAV in January this year.
Michelle Thew, Chief Executive of the BUAV, said: "We are delighted that Ian Murray MP is supporting our campaign. Edinburgh has a strong presence on BUAV's cruelty-free map. We call on all politicians to follow Ian's lead and sign up to this important campaign to end the cruelty and suffering inflicted on animals to test cleaning products."
Ian Murray MP said: "I am proud to support the excellent work being done by the BUAV in campaigning for an end to animal testing of household products.  I have made the leap to using certified cruelty-free cleaning products in my constituency office, and I am urging my Parliamentary colleagues to do the same.  By signing the Early Day Motion in Parliament along with 119 of my colleagues we are keeping the government to its promise to ban the use of animals to test household products."
The BUAV has spearheaded the campaign to end the use of animals in household product testing. BUAV's high profile and successful Clean Up Cruelty campaign has already gained widespread support from politicians, retailers and the public. Since its inception in 2008, the BUAV has taken Clean Up Cruelty around the UK, visiting MPs and politicians to encourage them to make their offices cruelty-free. We won a victory last year when the Coalition Government pledged to ban the use of animals to test household products in its plan for government. The BUAV's Early Day Motion calling for this ban has also received support from 119 MPs, including Ian Murray.
Despite public opinion, many ingredients in UK household products continue to be tested on animals. Products approved under BUAV's Humane Standard carry the Leaping Bunny logo, an internationally recognised and patented cruelty-free certification. Certified cruelty-free household products include those made by Marks & Spencer, Co-op, Astonish, Method, Bio-D and Faith in Nature.
For a full list of BUAV approved products please visit www.gocrueltyfree.org