By Lauren Witherspoon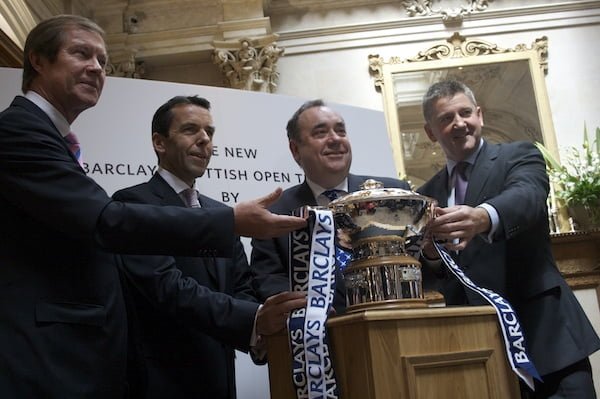 Scotland's First Minister, Alex Salmond, revealed the new trophy for the Barclays Scottish Open at Edinburgh's Hamilton & Inches today.
The trophy that the world's top golfers will compete for on 7 to 10 July, takes the form of a traditional Scottish quaich and was designed and fashioned exclusively by Edinburgh jewellers and silversmiths, Hamilton & Inches.
Managing Director Stephen Paterson, who handed over the trophy to the Chief Executive of The European Tour, George O'Grady, said creating the trophy was a huge honour and Hamilton & Inches felt it was appropriate that the trophy had a unique Scottish background. He explained: "When we contacted The European Tour about having the new trophy, we just felt it had to be made in Scotland.
"We recognise ourselves as being Scotland's leading jewellers and silversmiths and we have three floors of workshops above our showroom here in George Street, and it was entirely made in Edinburgh."
The Barclays Scottish Open will move from its traditional home of Loch Lomond to Castle Stuart golf course this year and the First Minister believed it was a chance to showcase Scotland's finest. He said: The eyes of millions of golf fans across the globe will be on the tournament's new home at Castle Stuart as some of the game's top names compete on this spectacular course.
"This beautiful new trophy takes the form of a quaich, a traditional symbol of the warm welcome for which Scotland is renowned. It has been designed and made exclusively here in Scotland, reflecting the very best of our country's artistic inspiration and craftsmanship. It is a world class trophy for a world class event."
Photograph by Lauren Witherspoon
From L-R. George O'Grady, Chief Executive of The European Tour, Ian Stuart, Head of Barclays Corporate UK, First Minister Alex Salmond and Stephen Paterson, Managing Director of Hamilton & Inches.