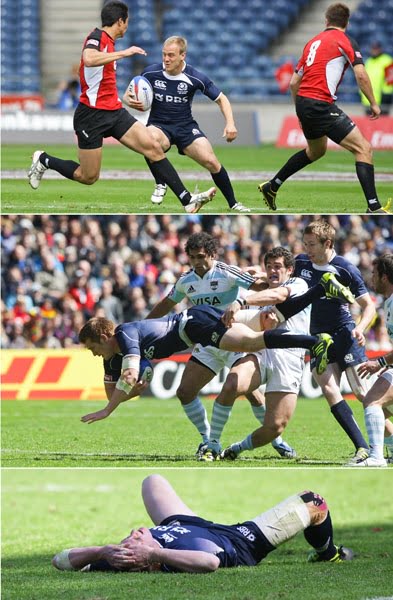 In spite of winning two of their Day 1 matches, Scotland lost out in qualification for the top two finals, the Cup and Plate, on scored points difference, so had to settle for the third tier, Bowl final.
Canada were first in line in a Quarter final match that saw Scotland battle hard to come out on top 26-14. Despite being down 7-5 at half time, they came back strongly in the second half to finish the game off 26-14 (top photo)
The Bowl Semi-final against Argentina (middle photo) saw the Pumas ahead after four minutes of the seven in the first half, but that was the last they saw of the try-line as, again, Scotland pulled themselves together to score 22 unanswered points and qualify for the Final against Kenya – a much bigger player in the Seven's circuit than might be thought.
"Disaster for Scotland!" as football commentator, Alex Montford, once cried. After again falling behind by a couple of scores in the first half and 14 points down in the scecond half, Scotland scored in the opening two minutes to put a bit of pressure on Kenya, which played out well with a second try from a quick penalty tap-and-go with two minutes still to play.
The final hooter sounded with Scotland deep in the Kenyan half, but a bit of fumbling and a neat pick-up saw Kenya away for the winning try, to win the match and the Bowl 21-14 – summed up by the final image.
Overall a fairly good performance from Scotland winning four of their six games, coming out of the tournament with Jim Thompson as top try-scorer but, as usual, giving plenty of heart-in-mouth moments to keep the crowd on the edge of their seats – surely not their intention.
Report and photo – John Preece Gallery