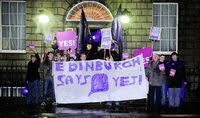 Yes! on the Beach
Sunday 24 April 2011
15:00-18:00
Portobello Beach (meet in front of Swim Centre)
Yes! to Fairer Votes supporters in Edinburgh will be meeting on Easter afternoon for a "purple picnic" and to create our own message on the sand, using pebbles, shells, driftwood, etc., inviting people to say yes to the alternative vote in the forthcoming referendum.
The organisers say:-"We are doing this to show we've had enough of politicians drawing phoney lines in the sand only to back pedal to suit their political interests and that MPs need to realise there's a rising tide of public support for AV and they'd best get on board or reach for the life boats!
With rising numbers in the polls, ever increasing distrust of our politicians and the hard work of activists like those in Edinburgh we've got a perfect storm in which to change this out-dated and broken voting system."
In addition to the work of activists across the country the Yes campaign has also received messages of support from John Cleese, Colin Firth, Stephen Fry, Joanna Lumley, Art Malik, John O'Farrell, Tony Robinson and Richard Wilson.
Yes! to Fairer Votes Edinburgh are led by Regional Organiser Neil Bibby and local coordinator Gregor Scotland. They have an office based at Thorley Stevenson, 149 Cowgate.
Yes! to Fairer Votes have over 150,000 supporters across the country and have built a grassroots campaign with staff and volunteer campaigners in nearly every major town and city in the UK.
For further information contact
fairervotes.edinburgh@gmail.com
They also have a Facebook page