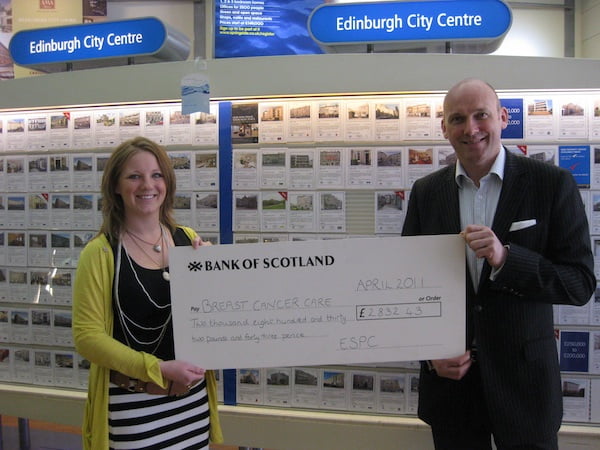 ESPC, east central Scotland's no. 1 property marketing firm, is proud to have raised over £2800 for Breast Cancer Care.
The money was raised through a series of events, with the help of ESPC's 200 solicitors, including a Strawberry Fizz Event and ESPC's 40th Birthday party which was celebrated in March of this year.
The Strawberry Fizz, an adaptation of Breast Cancer Care's Strawberry Tea fundraiser, saw over 150 guests enjoy cupcakes and fizz while being pampered through a range of treatments courtesy of Neal's Yard.
ESPC's  70s themed 40th Birthday party was filled with wine, cake and questionable outfits, and not to mention a guest appearance from Elvis, aka Malcolm Cannon, ESPC's Chief Executive.  Whilst there wasn't a rendition of Hound Dog or Jailhouse Rock, we did manage to string a few notes together for the equally famous Happy Birthday, led by Elvis and less tunefully followed by the rest.
The money raised by ESPC over the last few months could help Breast Cancer Care pay for over 560 people learn about breast awareness at a community based workshop delivered by Breast Cancer Care's expert team. Sorting myths from reality the session covers signs, symptoms and risks and encourages everyone to become breast aware in a way that suits them.  Equally the amount could pay for 122 calls to their dedicated helpline for up-to-date information on any aspect of diagnosis and treatment as well as confidential and sensitive support on the personal impact of the illness. The conversations take as much time as a caller needs which can often be over an hour.
Malcolm Cannon comments, "Despite the recession it has been great to see so many of our solicitors and customers attend our events and raise more money for Breast Cancer Care.  We would like to thank everyone for their continued support and contributions to some very successful evenings.  We are looking forward to more in the coming year."
Gillian Hamilton, Area Fundraiser for Breast Cancer Care commented, "We are so grateful to ESPC for the work it has carried out to support the charity, not only financially but also in raising awareness of the charity through its network.  It is with the help of companies like ESPC that we can make a difference to people's lives and help support those with Breast Cancer when they need it the most."
If you would like further  information regarding Breast Cancer Care call the helpline on 0808 800 600, or if you would like to help support the charity visit their website at www.breastcancercare.org.uk