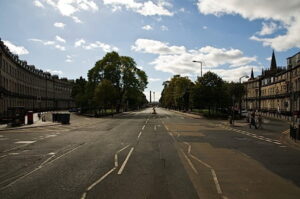 The photographs in this article were taken by Edinburgh New Town resident, Ashley Lloyd,  who today gave a presentation to councillors and experts about the adverse effects of the traffic congestion that has been resulted from road diversions resulting from the Tram project, and they show that all the effects are not confined to noise and pollution, but include damage, congestion and gridlock effects.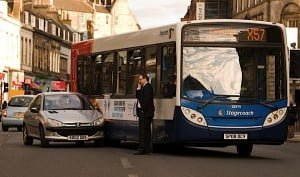 Other images show the car forced out by a bus unable to properly take the corner.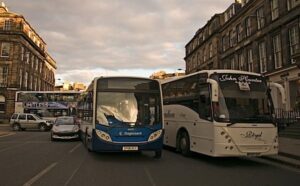 The car was being forced, and has stopped, after jamming against the bus, into the oncoming traffic lane out of Randolph Place into Queensferry Street because the roads simply cannot take the traffic.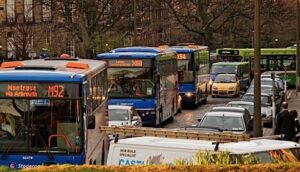 These photos also show the gridlock that resulted   from this minor shunt with traffic tailing up Queen Street past North Castle Street, Fredrick street, and beyond.
The residents feel the Tram project planning simply turned a blind eye to what would happen when the main, properly created through routes were emptied of traffic (because they say, the tram cannot share road space with vehicles) .
The New Town residents also claim that the pollution levels in Great Stuart Street and other streets will have soared even higher as gridlocked traffic idles waiting for the blockage to be cleared.