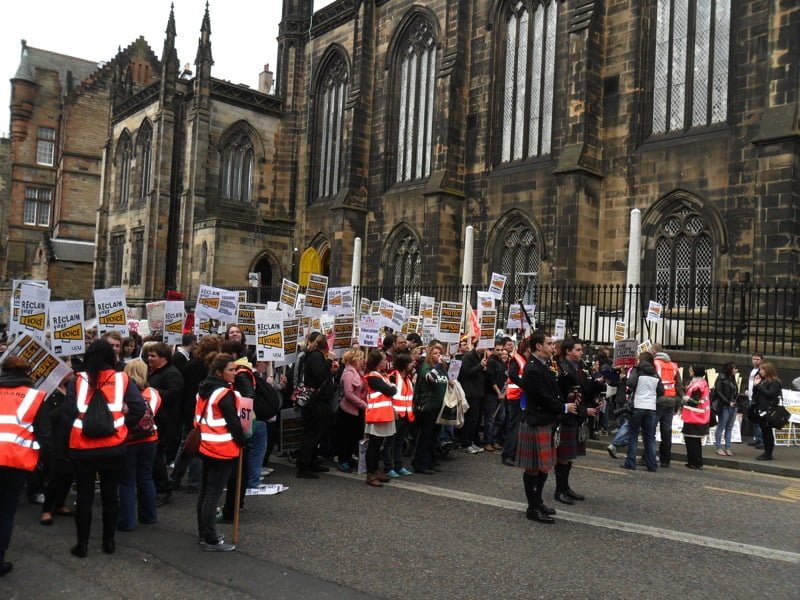 An estimated 4,000 students took to the streets of Edinburgh to campaign against education cuts  this afternoon.
The National Union of Students (NUS) organised the event and marched the length of the Royal Mile to Holyrood, where a rally was held. Protesters heard SNP and Labour politicians pledge to avoid tuition fees in Scotland, and protect higher and further education spending.
SNP Cabinet Secretary for Education and Lifelong Learning, Michael Russell MSP, said: "I remember being here last winter for the candlelit vigil when tuition fees were being voted on in Westminster, and I promised then that there would be no tuition fees in Scotland.  I am proud to be standing here today saying we have delivered no tuition fees in Scotland."
Russell gave assurances that a future SNP administration would seek to address further and higher education funding, and student support, saying: "I understand the link between student support and education."
Labour spokesman Des McNulty MSP also vowed  to look at student funding. Comparing the situation in Scotland to that south of the border he said: "I would like to congratulate the NUS Scotland not only for organising today, but in joining forces with their English counterparts to campaign against the introduction of tuition fees of more than three times those at present. I believe that these measures are going to destroy significant aspects of education south of the border."
In contrast to last year's student demonstrations in London, this was a largely peaceful event. Protesters were in the main content to chant their mantra of 'No ifs, no buts, no education cuts' as they marched.
What little anger was on show was aimed towards Liberal Democrat spokeswoman Margaret Smith MSP. Despite NUS president Liam Burns' efforts to make the crowd distinguish between Scottish Liberal Democrats and those in Westminster, she was met with a chorus of boos.
The boos and heckling returned sporadically throughout her time on the platform. Battling through the hostility, Smith launched a staunch defence of the Liberal Democrats record on education in the Scottish Parliament, and said:- "We are the party in government who scrapped Labour's tuition fees, while Tony Blair and the Labour party were increasing tuition fees down south, so I don't need any lectures from the chap in front of me."
Scottish Green Party spokesman, Patrick Harvie MSP, questioned which of the other political parties the protesters could trust. Claiming he did not want to make empty promises he said:- " I want you to make one promise to me. If I ever vote for tuition fees, I want you to promise to sack me."
Burns closed the rally by warning the politicians that the protesters would continue fighting for their cause saying: "We have been let down before and we are not prepared to let this happen again. We have welcomed the support from Labour, SNP, Liberal Democrats and the Greens in saying no to any price tag on our education.
"We will cast our votes and will we show politicians of every colour in Scotland that the student voice will no longer be disregarded, misrepresented or ignored in elections, or by governments."