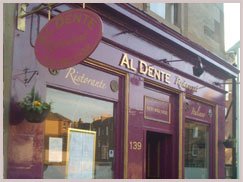 Fancy a night out on 23rd February? Here is our suggestion for something a wee bit different… A Theme Night at Al Dente Restaurant. Here is what Graziano from the restaurant says:-
Our latest theme night "Veneto" the region Venice is capital of!

In February there is a big thing going on in venice called Carnevale.
Carnevale is a festivity where everybody must wear masks and costumes, it's a beautiful experience.

I'll try to represent it in the restaurant on the 23rd of February by showing you videos of it as well as beautiful places you could see in the lagoon.

I lived there for a year and an half before moving to Edinburgh therefore I am particularly attached to it! The menu is very different from the previous Venetian night and The wine I can ensure you will surprise you. Don't forget about your chance to win a bottle of wine too!
The Menu
Glass of Prosecco and aperol with canapés on arrival
Pasticcio di radicchio
Grilled Verona radicchio with parmesan and béchamel sauce oven baked in a lasagne style
Risotto al nero di seppia
Black ink cuttlefish risotto. This dish of Venetian origin is now also used in other regions of Italy.
Dentice alla veneta
Snapper oven baked in a casserole with fresh crushed tomatoes, extra virgin olive oil, capers, anchovies, black olives and oregano
Pazientina
Typical dessert of Padua.This cake requires a rather laborious process, that's  probably his name. It consists of two layers of pastry, interspersed with zabaglione cream.
Everything is decorated with chopped almonds and dark chocolate flakes.
Te o Caffe
Tea or coffee served with "chiacchiere" typical carnival Venetian biscuits
A selected glass of regional  Venetian wine with each course
£ 52.00 per person
[googleMap name="Al Dente" width="400″ height="400″]139 Easter Road Edinburgh [/googleMap]