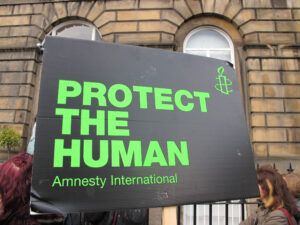 Amnesty International led a delegation of Scottish organisations in Edinburgh yesterday. They, and others, are concerned about the rights of gypsy travellers and Roma and wanted to lobby the various European consulates in the city ending up at the First Minister's residence, Bute House.
The letters which they were delivering outlined what they see as the discrimination and abuse of these groups in each country and called upon governments to take decisive action to guarantee a broad range of human rights such as access to health, housing and education.
They were walking and The Reporter caught up with them at the Irish Consulate.
[ad#slideshow2302]
For more information on this campaign go to the Amnesty International website