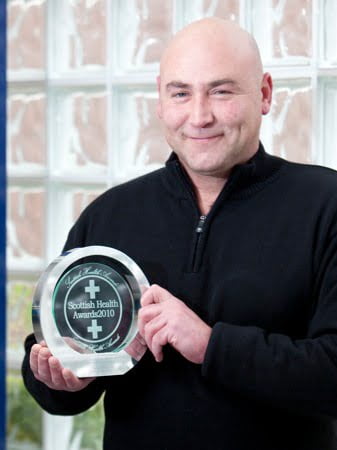 Stevenson College Edinburgh student, Jason Wallace from Kirknewton, was recognised for his outstanding work as a Support Worker for veterans at the Scottish Health Awards Ceremony last week at The Corn Exchange.
The Scottish Health Awards recognise and reward Scotland's most committed and caring NHS workers.  Jason, who won the Support Worker category, was nominated by staff at Veterans First Point where he has worked since the centre opened in 2009.
Jason, a student on the SVQ 3 Health and Social Care course, was a member of the Veterans Advisory Group, which was fundamental in establishing Veterans First Point, a centre for veterans and staffed by veterans, which provides support for the range of issues affecting servicemen and women returning home from duty.
As a veteran, Jason was aware of the lack of support available for servicemen and women, and in particular, support that addresses the full range of problems that they face.  As a member of the Advisory Group, Jason was able to categorise these problems and later began working at the centre as a Support Worker.  The centre now employs up to fifteen staff and helps over 300 clients.
Jason explains:-
"While some support is available for conditions such as post traumatic stress, it can be difficult to seek out effective support for the whole range of issues that veterans face when they return home.  Unless you are addressing all these issues, the little support they do receive can be ineffective. There are long term servicemen that leave the army and don't know where to begin when it comes to housing and finding new employment. There are young servicemen that come home after spending time in Afghanistan who need support to adjust to everyday life and relationships.
"We are able to give them the full circle of support they need to help their lives function. "
Jason enrolled on the Health and Social Care SVQ Level 3 course at Stevenson College a year after he began working at the centre.
He added:
"The qualification has changed the way I work. I have all the experience and knowledge I need for my role, but gaining this qualification has given structure to the processes we use and developed my knowledge of the legislation that underwrites what we do. This has been crucial. When I used to sit down with a client, I wrote down everything they told me.  Now I know how to draw the information I need from a client, record it concisely and I'm able to help them more effectively."
Sarah Lomax, SVQ Assessor at Stevenson College Edinburgh says:
"Jason is very humble about receiving this award but he fully deserves it and it is important that his efforts have been recognised by the industry he works in. I've seen a great change in Jason since he started this qualification; his confidence has grown and, although he has always been good at his job, he now has the expertise to handle cases much more efficiently. He is an asset to his employers at Veteran First Point."
Jason is due to complete his qualification at the end of this year and will continue to develop the role of Veteran First Point.