What a difference a week can make in International Rugby. Far from the fairly(!) one-sided affair of last week, Scotland and South Africa appeared to be far more of an even match, with neither side dominating for long periods, but both producing an open and highly entertaining game.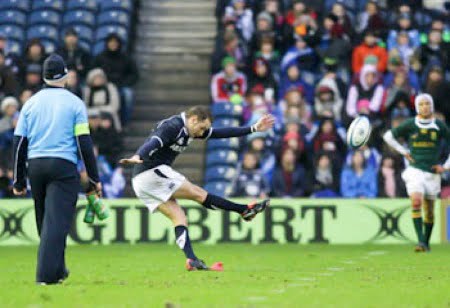 South Africa opened the scoring with two penalties slotted home from a possible four, before Dan Parks brought the Scots level with a penalty and drop kick, Scotland eventually leading at half time 12-9. Just before half time, however Parks was levelled by a very hard hit from South African centre, Jan de Villiers initially causing enough concern for the medical team to call for a stretcher. Fortunately, Parks is made of sterner stuff and, somehow, recovered to continue.
The second half of the match picked up where it left off with neither side oppening an advantage, but maintaining the same intensity with the game flowing from end to end. Steyn drew the Springboks level after the half, but indiscipline in the South African game gave away another two penalties which Parks put neatly between the posts to give the Scots a six-point lead.
Twelve minutes before the final whistle, Parks put Scotland two scores ahead with another penalty for a Springboks' off-side. Witha few minutes to go, South Africa showed why the are current World champions, refusing to lie down, scoring the only try of the match from a forward drive. puting replacement, Willem Alberts, over the line to bring the score to 21-17. The conversion was missed, so giving Scotland a four-point lead which they maintained for the last few minutes to close out the game.
This was a far more competent performance from a Scots team humiliated by the All Blacks the previous week, and, if the level can be maintained, should lead to a better Six-Nations in the Spring
Two high points of the week-end were James Robson, the Scottish team doctor, receiving a Fellowship ad hominem from The Royal College of Surgeons of Edinburgh for his services to the medical care of players at all levels of the game, but particularly to Thom Evans.
The second was the crowd at Murrayfield being sufficiently engaged in the match not to attempt to start up any Mexican waves.
Progress indeed..
Report and photos – John Preece
Photo link – http://www.jlp-photography.co.uk/International-Sporting-Events