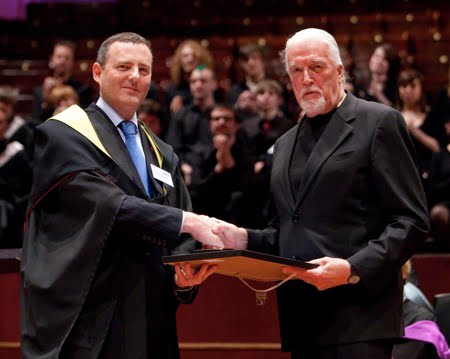 Stevenson College Edinburgh hosted its ninth annual Graduation Ceremony at the Usher Hall in Edinburgh this month with over 230 students graduating on the day.
The ceremony this year featured two special yet very different guests – Iain Gray MSP, Leader of the Scottish Labour Party, and founder member of Deep Purple, Jon Lord.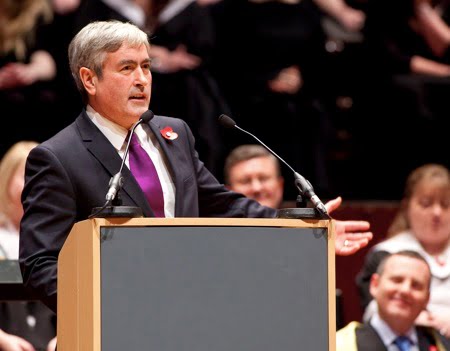 Iain Gray MSP delivered a highly inspirational keynote speech to the graduating students. The address contained many interesting and exciting anecdotes from throughout Mr. Gray's colourful career from his days as a school teacher at Gracemount High School, to becoming Campaigns Director at Oxfam to his present role as an MSP.
Iain Gray compared the current economic climate to that of when he graduated around 30 years ago where graduates faced similar difficult circumstances. He spoke of the need for students graduating in the disciplines of early years, social care, business, accounting and creative industries in particular, to help build a strong and supportive society, whilst promoting the cultural and economic capability of Scotland.
Also at the ceremony, Jon Lord was made a Fellow of Stevenson for his commitment to education and high quality musical performance. Jon was very touched to be the recipient of an honorary Fellowship from the College, which cemented a long-running relationship between Jon Lord and Stevenson College Edinburgh. Jon has worked on a number of collaborative projectswith the College's music department, culminating in a highly successful concert at The Usher Hall last year and the premiere of Lord's Scottish performance of his Concerto for Group and Orchestra.
Principal and Chief Executive of Stevenson College Edinburgh, Brian Lister OBE, added: "The Graduation Ceremony is always one of the most exciting dates in the College calendar and we were especially honoured this year to have Iain Gray MSP as our guest speaker and to welcome Jon Lord as a Fellow to Stevenson. This confirms the role of the College as a centre of academic and vocational excellence."
Jon Lord tells of his award on his blog here.