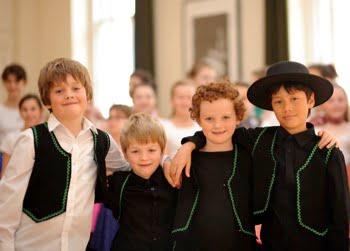 Director Tracy Hawkes celebrates Dance For All's double anniversary this August at the venue which she now owns and where she herself originally trained as a dancer in the 1970s.
Formerly known as The Theatre School of Dance, full-time training has been offered at the school for nearly four decades and a large majority of dance teachers in Edinburgh, the Lothians and across Scotland, received their training there. Following her own classical training at The Theatre School of Dance, Tracy went on teach and perform with numerous companies both here and abroad, including Basic Space Dance Theatre, Napac Ballet and Durban City Ballet. Tracy is a registered teacher and an Associate of the Royal Academy of Dance (ARAD) and is the only Spanish Dance Society qualified teacher in Scotland.
Tracy also met her husband, film producer Jon Hollis, whilst teaching an evening class at the Theatre School of Dance in 1981. She said:-"I admired his demi plie and we've never looked back!"  Now married for 25 years with four daughters, Tracy is also celebrating the silver anniversary of the founding of Dance For All in 1985. She bought the Theatre School venue in 2000, and since then has been the artistic director of the only Scottish vocational dance college that incorporates academic qualifications within a diverse and extensive professional dance and teacher training course.
True to its name, Dance For All has offered many scholarships to exceptional students, not just on the professional course but also to younger pupils attending the general school. One such pupil, Mimi Ali-Kparah was singled out by Tracy during an interactive workshop at James Gillespie's Primary School. Tracy said:- "I was so surprised when I learned that Mimi, then aged 8, had never had any formal dance tuition as she had such natural grace and exceptional dance ability."
This accredited dance college has built strong alliances with dance schools throughout Scotland, frequently receiving referrals of their pupils to the full-time three year professional course.
Dance For All has been running the course in collaboration with Jewel & Esk College for ten years, affording their students access to the facilities that a large FE college provides whilst retaining autonomy as an independent vocational dance school.
The experienced and qualified faculty at Dance For All offer an HNC, HND and numerous   industry recognised qualifications as well as teacher training in a wide variety of genres including classical ballet, jazz, street, urban, tap, national, benesh, Spanish, contemporary, choreography, singing, acting and musical theatre. Frequent performance opportunities & master-classes from visiting tutors are complemented by multiple contextual studies.
Former students who continued their training elsewhere have said that they appreciate that the more intimate atmosphere of DFA compared with far larger colleges, along with the nurturing ethos of its staff gives every individual the opportunity to flourish and reach their potential.
Dance For All graduates achieve the multi-disciplined training required for today's dance industry and have gone on to teach worldwide, establish their own dance schools, work both in the UK and internationally in musicals, TV, film, theme parks, cruise ships and touring dance companies.
2010 graduate Lisa Aytoun is considered one of the college's rising stars. The champion Scottish gymnast was chosen by the MOBO Awards 2009 production team to present the nomination envelopes in a gymnastic stage dance fashion. Lisa has just been told that her gymnastic troupe for which she is also choreographer, Midlothian TeamGym, will be representing Britain in the European Championships.
Dance For All also runs over 100 weekly classes for adults, teens and children. It is a hub of expertise to dip into at any age and level, from the complete beginner to the experienced professional with classes and dance camps including the aforementioned genres as well as Yoga, Egyptian Belly-Dance, Argentinian Tango and Strictly American Ballroom. Further information can be found on their website