The week when all planes were grounded in the UK and above UK airspace was a peculiar one it must be said. The way that the matter was resolved by the government showed, in the Reporter's view, that there was commercial pressure exerted on those in charge…….
Here is the final word from NATS. It has taken them about two hours to get the wording right……but here it is…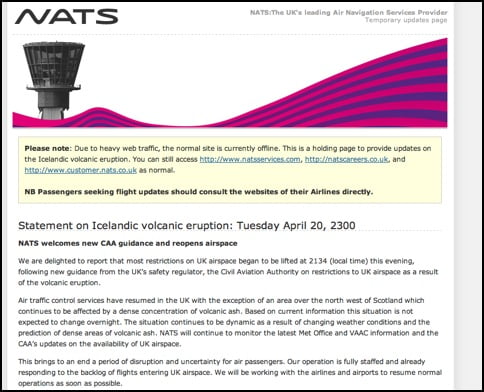 THIS IS A LIVE MAP OF THE UK SHOWING SOME PLANES (IN YELLOW) WHICH WERE CIRCLING AT ABOUT 35,000 FEET at 2030 on Tuesday 20 April
THEY ARE ALL BA PLANES, ALL HEADING FOR HEATHROW, WHICH WAS NOT DUE TO OPEN FOR ANOTHER 90 MINUTES.
The website is available here
So was this some kind of pincer movement by BA to force NATS to reopen the airport at Heathrow? These planes left at least 10 hours ago in some cases – one is from San Francisco for example.
The advice from NATS etc was that all UK airports (at least south of the border) were to be closed till 0100 Wednesday.
The CAA then suddenly advised that all UK airports would open at 2200 hours on Tuesday evening…..but the BA planes had then been circling for about 2 hours…..
What were the passengers told when they got on the planes?
The details for the plane on the left are BAW84
Callsign: BAW84
Flightnr: BA84
Reg: G-CIVT
Hex: 4006AA
Model: Boeing 747-436 (B744)
Airline: British Airways
Lat: 54.03095
Lon: -4.72178
Altitude: 34000 feet (10363 m)
Ground speed: 495 knots
(917 km/h / 570 mph)
Track: 151°
Radar: NET2
From : Vancouver, Vancouver (YVR)
To: London, Heathrow (LHR)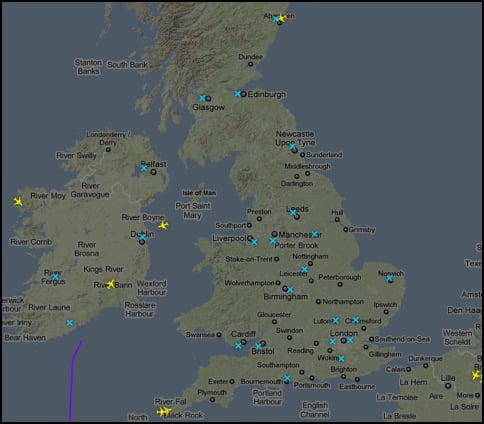 And – Here is the flightpath that the first plane to arrive at Heathrow – BA84 from Vancouver took….it seems that Dublin did not want them!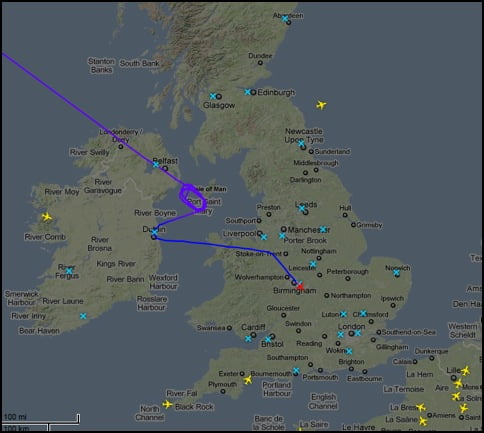 AFTER A NEW DIRECTION FROM CAA – NEWS FROM NATS
They said that they would issue another update onTuesday at 2200 – by 2230 there was no such update

ANNOUNCEMENT FROM THE CAA
The CAA is the UK's specialist aviation regulator. Its activities include: making sure that the aviation industry meets the highest technical and operational safety standards; preventing holidaymakers from being stranded abroad or losing money because of tour operator insolvency; planning and regulating all UK airspace; and regulating airports, air traffic services and airlines and providing advice on aviation policy from an economic standpoint.