It's hard not to think of Fawlty Towers, Torquay's most famous hotel, when entering the farcical world of Hotel Decevoir,  lovingly created by Kimberley Taylor, given that its manager is an arrogant, deranged exemplar of the species.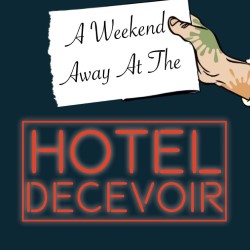 But there the similarity ends for the Leeds-based Taylor, 23, has injected her own waggish powers into a joyously raucous parody of the classic murder mystery.
In a Covid-inflicted pared-down 50-minute show, Jasper Cattell gives a commanding performance as the pompous, clipped-accented Mr Cartwright, whose search to find out who has stolen the coveted award for best hotel restaurant is the fulcrum on which the feisty action turns.
The 15-strong cast, slickly directed by Taylor and David Whelan, 23, of Reading, feature a motley assemblage of guests and workers, played by past and present members of Cardiff University. 
They include  Georgette Orford's tarty teen popstar sensation, Sugar, sporting a glittering spangled red dress,  Mollie Loughlin as Roxanne Jinner, her stuck-up, overbearing "momager", the unhappily married Umbrages, and  Beth Hall as the delightfully slathering, bumbling all-purpose hotel maid, Lillian.  Kate Marks is also excellent as the lippy, gum-chewing receptionist, Arabella.
Deliciously dripping in sexual innuendo, closet lesbianism and homosexuality and with an added dose of arch comic intrigue, the Chalkhill Theatre production is a great pick-me-up for these uneasy times.
A Weekend Away at the Hotel Decevoir theSpace @ Surgeon's Hall until 14 August