Dovecot Studios celebrates a bold new talent in Scottish tapestry weaving, this coming January. The Gallery is exhibiting the work of artist Elaine Wilson who has just completed her three-year apprenticeship at Dovecot, and who will start a new career with the Studios as a Junior Weaver in 2021. Comprising of tapestries and technical studies, 'The Art of Being an Apprentice' highlights Wilson's progression over the last three years.
From translating her own paintings to weaving works inspired by Romantic painter JMW Turner and contemporary artist Jenny Saville, the display on Dovecot's Viewing Balcony demonstrates the skill and artistry of an early-career weaver.
As one of the only organisations to offer formal training in the art of tapestry weaving, Dovecot is delighted to highlight the Tapestry Apprenticeship, which is vital to training and inspiring a new generation of weavers. Since 1912, the skills of tapestry weaving have been passed down from Dovecot Master Weaver to Apprentice and in 2011 the Apprenticeship Programme was relaunched with the support of the Dovecot Foundation.
Since starting her apprenticeship, Edinburgh-based painter Elaine Wilson has acquired skills including warping the loom, creating and inking on a tapestry cartoon and producing work that explores line, shape, texture and colour. Each one of the tasks Wilson has undertaken presents a new challenge to a learning weaver.
Working in the context of a Studio, Wilson has worked directly alongside experienced weavers on full-scale tapestry projects as well as creating her own designs for tapestry.
Alongside learning the technical and practical skills of weaving, Dovecot apprentices undertake their own study into the processes, stories and history of tapestry. For Wilson this involved looking into archives, as well studying contemporary weaving, and considering how her own paintings might evolve through translation into tapestry.
Dovecot Apprentice Elaine Wilson says, 'As a painter and textile designer, I was drawn to tapestry weaving as it is an artistic pursuit that combines my interest in the tactile and the process of making. During my apprenticeship at Dovecot I have enjoyed learning more about the art of tapestry from the Studio team, and I am excited to move forward as a Junior Weaver.'
Master Weaver and Dovecot Studio Manager Naomi Robertson says, 'The Dovecot Tapestry Apprenticeship is a highly competitive and prestigious opportunity to learn from a world class tapestry studio. Elaine Wilson has proven to be an outstanding student and a dedicated learner. She has consistently explored and experimented with different textures and techniques.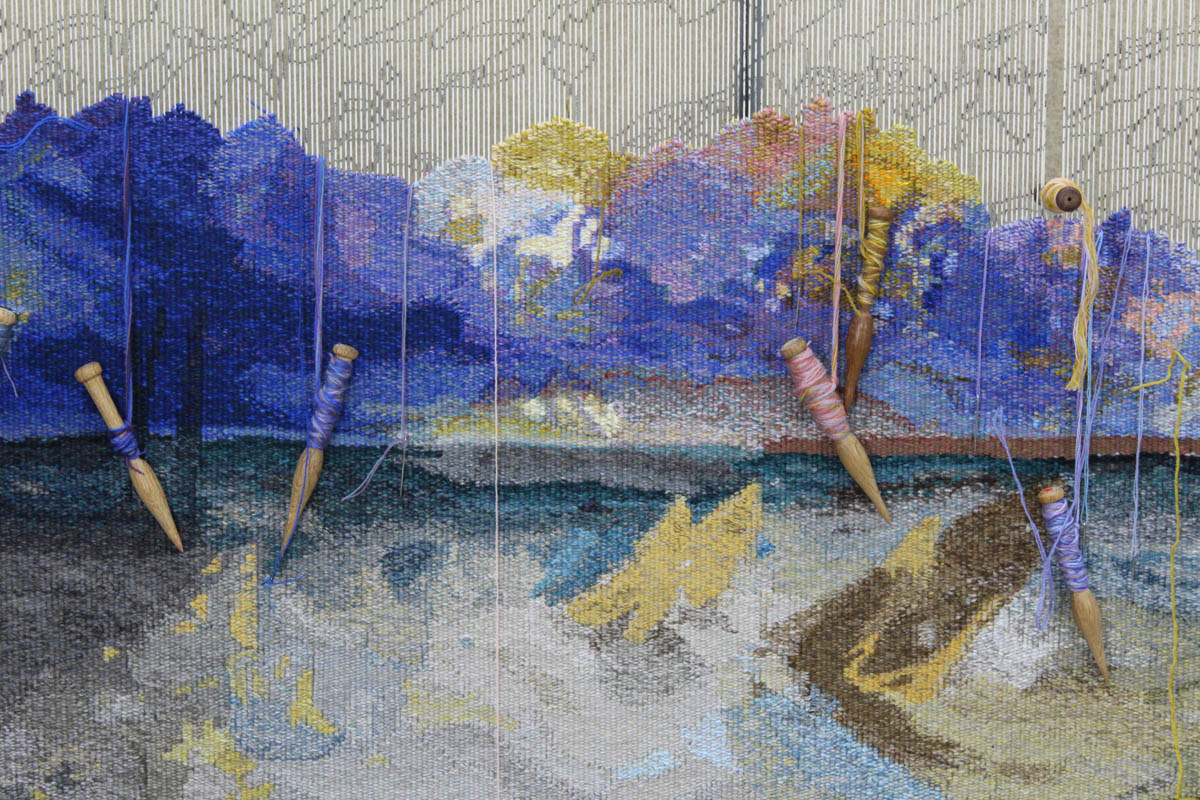 "Her painterly eye has enabled her to interpret the JMW Turner watercolour with sensitivity and self-expression. I believe her work is a testament to Dovecot's commitment to sustaining Scottish tapestry by training the next generation of 21st century weavers.'
The Dovecot Apprenticeship is funded by The Dovecot Foundation with additional support from the Queen Elizabeth Scholarship Trust and Allchurches Trust.
Image credits – Kenneth Gray Photography, Mike Wilkinson Photography and Dovecot Studios