A short service was held at Lauriston Castle this morning by 1st Bn The Royal Scots in honour of those from the 1st and 2nd Battalions who fought in the Far East from 1941 to 1945.
A total of 496 Royal Scots were killed or died as prisoners of war, and a further 707 were wounded or recorded missing.
Piper Mike Pretsell led the group from the car park at Lauriston Castle to the Burma Memorial where Rev Iain May Chaplain of The Royal Scots Association and Minister of South Leith Parish Church led the remembrance service.
Two wreaths were laid by Brigadier George Lowder, the Association President, and Louis Barnetson on behalf of his great uncle, Jack Barnetson, who lives in Edinburgh.  He served in The Royal Scots, fought in Italy, was wounded, and taken prisoner. Jack's brother Alex, also a Royal Scot, was killed in Burma whilst commanding the Carrier Platoon.  Jack wrote a poem in memory of his brother that contains the following lines, "There are many kinds of sorrow in this world of love and hate, but there is no sterner sorrow than a soldier's for his mate."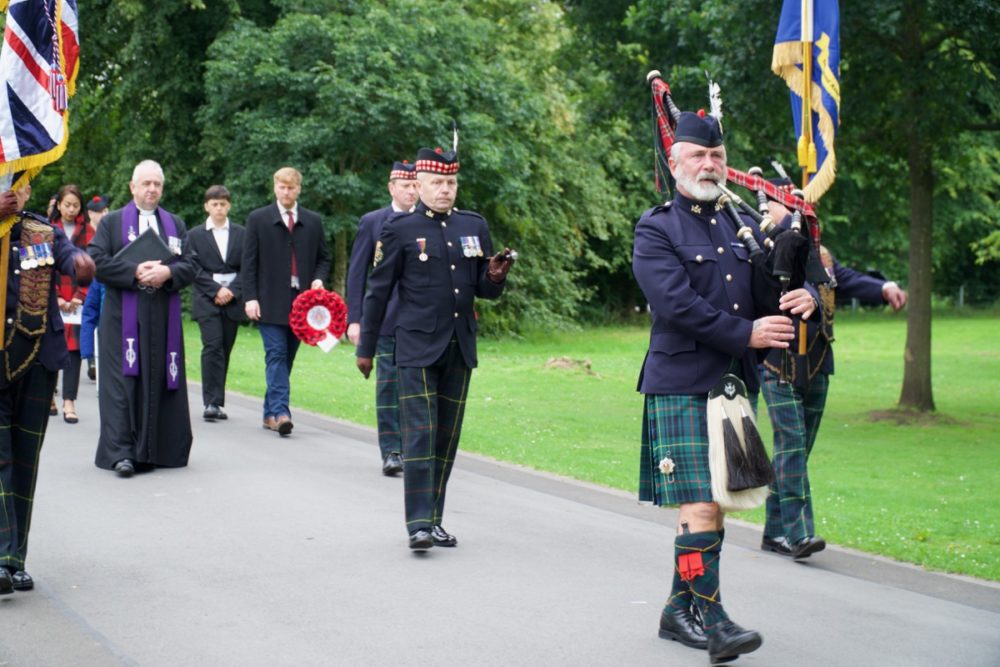 The service ended with the Prayer of Remembrance and Regimental Collect:
"Oh Lord Jesus Christ, who art first and last grant we pray Thee, that as thou has promised to be with us even unto the end of the world, so may The Royal Scots be the first to follow Thee and the last to forsake Thee, who art with the Father and the Holy Ghost, one God, world without end, Amen"
This morning at Lauriston Castle a remembrance ceremony was held by The Royal Scots #VJ75 pic.twitter.com/se2WZFSZ4u

— Edinburgh Reporter (@EdinReporter) August 15, 2020
Colonel Martin Gibson said: "Our Regiment feels very strongly that we should mark VJ 75 in this way to remember all the Royal Scots who fought and died in the Far East where World War 2 continued for over 3 months after celebration of Victory in Europe in May 1945. Some Royal Scots who took part in the crucial delaying battles of the Germans approach to the Dunkirk evacuation in May 1940 then made the ultimate sacrifice in the Far East. We will never forget."
Colonel Martin Gibson said: "Our Regiment feels very strongly that we should mark VJ 75 in this way to remember all the Royal Scots who fought and died in the Far East where World War 2 continued for over 3 months after celebration of Victory in Europe in May 1945. Some Royal Scots who took part in the crucial delaying battles of the Germans approach to the Dunkirk evacuation in May 1940 then made the ultimate sacrifice in the Far East. We will never forget."