On Wednesday the grouse moors will be full of tweed-suited shooting parties all vying to bag the first bird when the dawn breaks.
There is then a rush to get the bird onto the table of some of the finest restaurants, often using planes trains and automobiles. While there is no actual prize for being first, the delicacy commands a price of its own, since wild grouse are exclusive to the UK.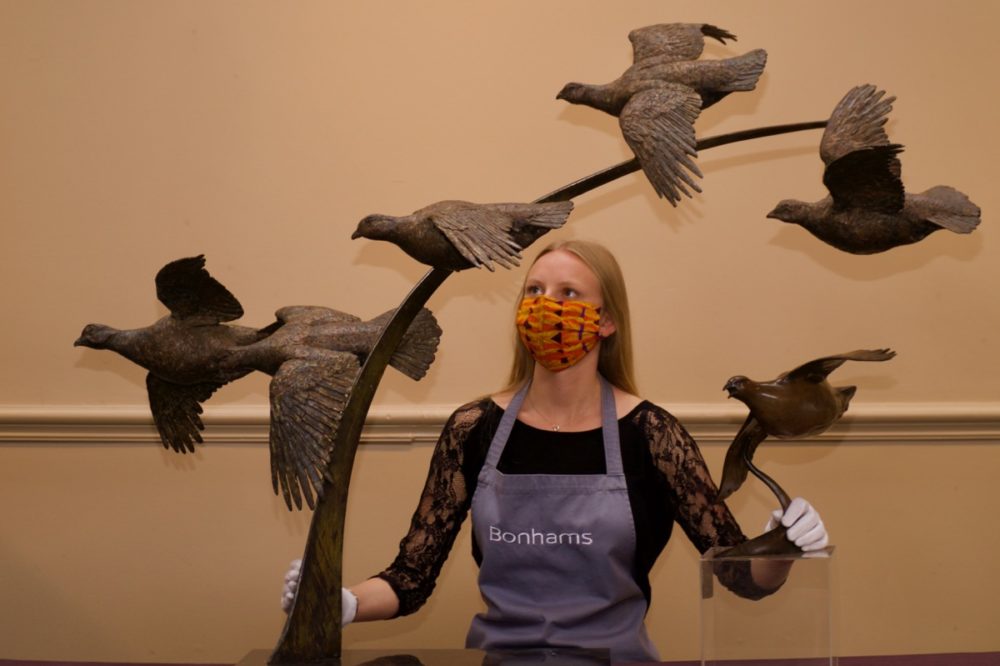 At Bonhams this morning there was a nod to the country right in the heart of the city, when they wheeled out a Hamish Mackie bronze called Grouse Covey which is expected to fetch up to £3,000 at auction in September. That may well be cheaper than a gun on any of the shoots which will take place on Wednesday.
The statue is nearly 5 feet tall, was made in 2004 and is number 7 out of a limited edition of twelve.
Grouse shooting is one of the permitted activities, mainly as it is an important part of estate management, as well as important to the rural economy. Many are employed as beaters (although loaders will not be on offer this year), but also some of the hotels and pubs depend on this seasonal trade.
Covid-19 guidelines may include temperature checks of those taking part, and rather than a buffet style lunch there will be lunch boxes separately packed for everyone. The Scottish Gamekeepers website announced in June: "Whilst overseas travel restrictions remain in place currently, the easing of lockdown restrictions on travel and accommodation, from phased dates in July, should allow for UK-based sporting activity such as deer stalking and game shooting to go ahead with social distancing and hygiene measures in place."
As well as the grouse bronze there are some brooches and tie pins included in the sale, such as this one below of a Jack Russell.