Dame Kelly Holmes, Mark Rowley & Rosie Kay join the Army for three weeks of online performances, screenings, readings and workshops
Guerilla artist Heather Marshall helped launch three weeks of online arts events called 'Army@TheVirtualFringe'.
Among the highlights will be the online premiere of 10 SOLDIERS, a spectacular contemporary dance production, which will be followed with a panel discussion with guests including double Olympic gold medallist Colonel Dame Kelly Holmes.
There will also be live-from-home theatre performances, readings, workshops and discussions celebrating everything from theatre, film and dance to photography and music.
'Army@TheVirtualFringe' features more than 40 free events from 10 to 30 August. It replaces 'Army@TheFringe', a programme of live shows which takes place in an Edinburgh drill hall as part of the Edinburgh Fringe each August.
It kicks off on Monday with a film shorts night with Royal Marine turned filmmaker Phil Spencer and a session with Corporal Rebecca Brown, who became the Army's first female photographer of the Year in 2019.
On Wednesday, 12 August, there will be a chance for aspiring actors to pick up tips from Paisley-born Mark Rowley – famous for his role in TV historical drama Last Kingdom.
That evening there will be the chance to see 10 SOLDIERS by the Rosie Kay Dance Company – a production that so impressed Colonel Dame Kelly Holmes when she saw it live in Birmingham that she wanted to be part of the post-show discussion panel.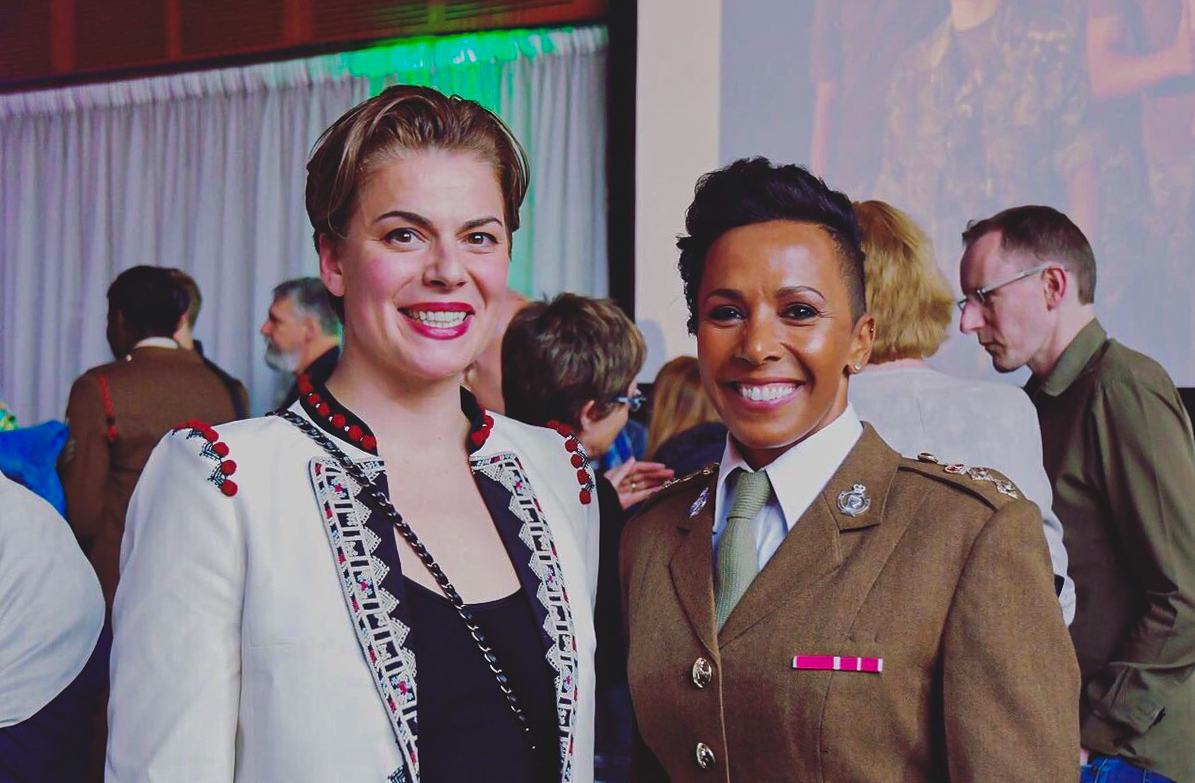 She said: "10 SOLDIERS was an incredible experience, the show is accurate, well observed and really captures the strength of the relationships between soldiers.
"It is an impressive portrayal of military life that explores the highs and the lows for men, women and BAME soldiers in an honest and uncompromising way."
Dame Kelly was raised on a Kent council estate, joined the Army at 18 and later won gold in the 800 metres and 1500 metres at the 2004 Athens Olympics and is an honorary colonel with the Royal Armoured Corps.
Heather Marshall, of Leith's Creative Electric, is running a youth engagement arts activism project called Guerilla Art as part of 'Army@TheVirtualFringe'. This will be used to create an online gallery.
Heather said: "This is the first time that we have had so many restrictions on our lives. As adults it's hard but for young people it's incredibly frustrating – they should be finding their freedom and using their voices.
"As part of 'Army@TheVirtualFringe' I'll be hosting workshops where families can work together to create their own pieces of guerrilla art to share their thoughts and hopes with the world."
Heather will also be sharing the film of her project 'My Auntie's a Vandal', created with her 12-year-old godson Charlie (and supported by Imaginate and the International Children's Festival) which explores alternative methods of communication and enabled young people to have their voices heard.
The event team is being led by Edinburgh producer Jordan Blackwood and Army Head of Arts Lieutenant Colonel Wendy Faux.
Lieutenant Colonel Gordon Mackenzie, the Army's Head of Engagement in Scotland who has been a driving force behind 'Army@TheFringe', added: "It's four years since we opened a venue at Edinburgh's Fringe to allow theatre to be a catalyst for conversations about who we are and the values important to us.
"Despite coronavirus we have more partners and interest than ever, and our fully-packed virtual programme means we can support artists and maintain public interest while we prepare for a physical return in the future."
Rosie Kay was brought up in Edinburgh but now lives in Birmingham which is home to her successful international dance company
Army@TheVirtualFringe events are free but places need to be reserved in advance at www.Army@TheFringe.org.