The Australian Branch of the Hibernian Supporters Association took advantage of the club's 'Be The Face In The Crowd' by purchasing 33-cardboard cut outs which were placed in the stadium for yesterday's 'bounce' game against Hamilton.
Rather than send a photograph of themselves however the fans decided on a unique way to honour the team and forwarded a picture of a kangaroo along with funds to secure an additional 32.
In recent years Hibs have built up a strong connection with the Socceroos with Jamie McLaren, Mark Milligan and current striker Martin Boyle all representing the country.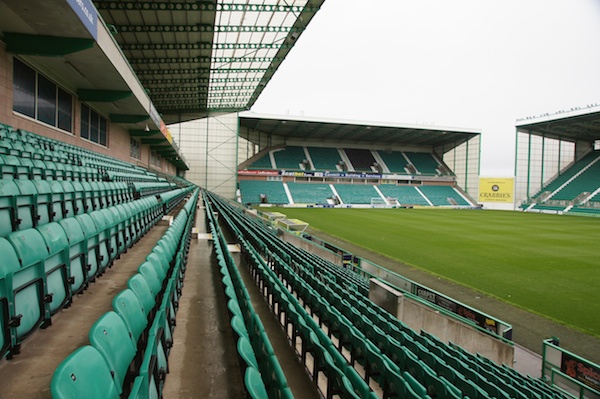 Fred Legget was one of the founding members in 1987 and the group continues to go from strength to strength – with more than 400 members in a lively Facebook community that all share a passion for the club. He was keen for the branch to be represented and explained: "Hibernian were a very important part of my life growing up and have remained so. As the old adage goes, 'you can take the boy out of Leith…'
"When we founded the branch there was no Internet, obviously. You had to tune in to one specific radio station at 9am on the Sunday to hear the result. If you missed it, you had to wait until the Monday morning newspaper. The branch kicked off to give Australian-based Hibees the chance to get in touch with each other and friendships were formed 30 years ago that continue today.
"They come from all over Australia – whether it's Sydney, Melbourne or Perth to the bush and places like Bundoora, Joondalup, Waterfall Gully, Wagga Wagga and Pinjarra to name a few. You name it and the likelihood is you'll find a Hibee somewhere.
"An 'average matchday' obviously varies throughout Australia, with the different time zones. For me it's a case of a 'quiet' Saturday night at home watching Hibs TV and getting to bed around 2am. It's even harder for our cousins in New Zealand. How they make the 2am kick-off on a Sunday I'll never know.
"We try to contribute to the club's coffers whenever we can. We sponsor a couple of Hibernian Women players, we bought a few season tickets that we donated to an Edinburgh charity, several members make donations through Hibernian Supporters and, of course, there are the innumerable purchases from the Clubstore.
"The Face In The Crowd promotion really captured our imagination. We saw it as a way we could assist the club financially, show our support in an Aussie kind of way and hopefully add a bit of fun to proceedings.
"We originally aimed for six kangaroos, but we were overwhelmed by the response. We also hope it might result in those Hibs supporters who live in Australia but maybe didn't know about the group getting in touch. In short, we thought it was a brilliant promotion that would benefit everybody."
Martin Boyle added: "It's unbelievable the lengths these guys go to watch us every weekend and it's appreciated. I get some great messages from supporters based in Australia and hopefully they're looking forward to the start of the season as much as we are.
"I've seen some strange things in my time at Easter Road but those kangaroos are right up there."