According to OpenReach they have installed some of the fastest most reliable broadband anywhere in the UK in Edinburgh.
Customers can connect to the latest fibre optic technology in many areas of the capital including Abbeyhill, Corstorphine, Davidson's Mains, Newington, Fairmilehead, Fountainbridge, Liberton, Colinton, Granton, Leith and Morningside.
Engineers are now back at work and work is beginning again in Portobello, Craiglockhart, West End and Stockbridge. Future projects in Maybury, West Edinburgh and the Waverley exchange area are scheduled for later this year.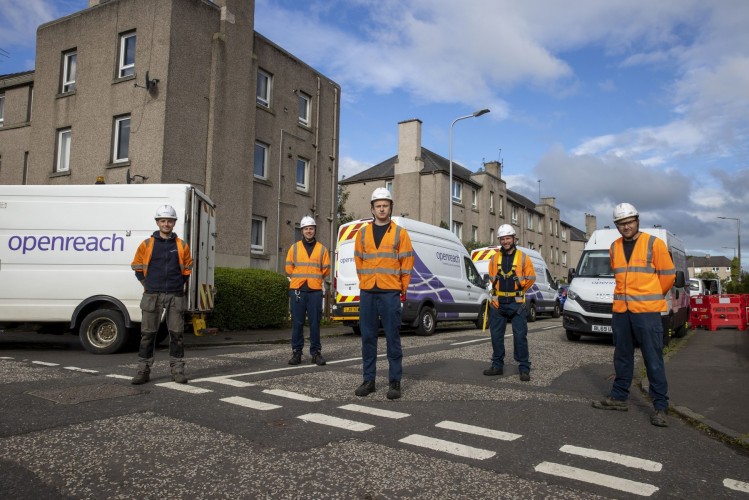 Robert Thorburn, Openreach's Partnership Director for Scotland, said: "We've made great progress here in Edinburgh despite the challenges of Covid-19 restrictions, with 80,000 city households and businesses now able to connect to our new full fibre broadband network.
"Connectivity's been vital for city businesses, home workers and families home educating during the lockdown, with record demand across our network. Now, as the nation faces the economic fallout from the pandemic, it's going to be even more essential.
"Our rollout in Edinburgh offers these 80,000 homes and businesses access to the fastest, most reliable broadband available anywhere in the UK. That gives the city an economic edge for the recovery – so I'd urge people to check if they can upgrade now."
He added: "The copper network is coming to the end of its working life and will eventually be switched off. Edinburgh businesses and residents can be early adopters to the new full fibre network, with a choice of providers who use the Openreach network to offer services.
"We're grateful to The City of Edinburgh Council – without their support we couldn't have reached today's landmark in our full fibre rollout."
OpenReach say that full fibre broadband provides more reliable, resilient and future-proof connectivity, with fewer faults, more predictable, consistent speeds and enough capacity to easily meet growing data demands.
It offers clear economic benefits – recent research suggests that connecting everyone in Scotland to full fibre broadband would create a £4.5 billion economic boost and help 37,000 more people to access employment, reduce pressure on transport and housing and support remote working.
Adam McVey, Council Leader, said: "The last few months have really reminded us how much we rely on good broadband for home working and staying connected with our loved ones. But we're lucky to have a high-speed network in Edinburgh, one which has helped thousands of people to access the information and services they need and to effectively run businesses from home.
"Openreach's project is rolling out full fibre digital infrastructure to communities right across the City, at a time when digital inclusion will be absolutely key for tackling inequalities, driving forward our net zero carbon plans and sustainably rebuilding our economy."
Cammy Day, Depute Leader, said: "Technology is the way ahead and further work to improve speeds and connections is to be welcomed – particularly as businesses start to embrace remote working longer-term.
"We know that Edinburgh is one of the UK's most trailblazing smart cities and that a big part of our recovery from this crisis will involve being innovative and having access to the right tools to support study, work and home life. This roll-out is a prime example of how we continue to lead the way in connectivity, and will help to deliver our smart city ambitions to become a data capital city!"
Liz McAreavey, Chief Executive of Edinburgh Chamber of Commerce, added: "Many of our members have used Edinburgh's strong, existing connectivity to adapt and keep going during the lockdown. Openreach's significant build of full fibre in Edinburgh – which has now reached around a third of all city premises – takes this to the next level. It offers many businesses a competitive edge now, when they most need it, and gives the city a fantastic digital platform for the foreseeable future."
Openreach has recently expanded its UK national plans and will now make FTTP technology available to 4.5 million homes and businesses across the UK by the end of March 2021 – an increase of 500,000 premises. By the mid-to-late 2020s the company wants to reach 20 million premises – almost two thirds of the UK – assuming the right conditions are in place to support investment.
Check if you can get the latest broadband from OpenReach here