Over 50 bikers roared into the Sick Kids in Sciennes to deliver gifts for the children and young people there.
Giving the reindeer a rest in the run up to the big day, Santa took to two wheels (with a trailer).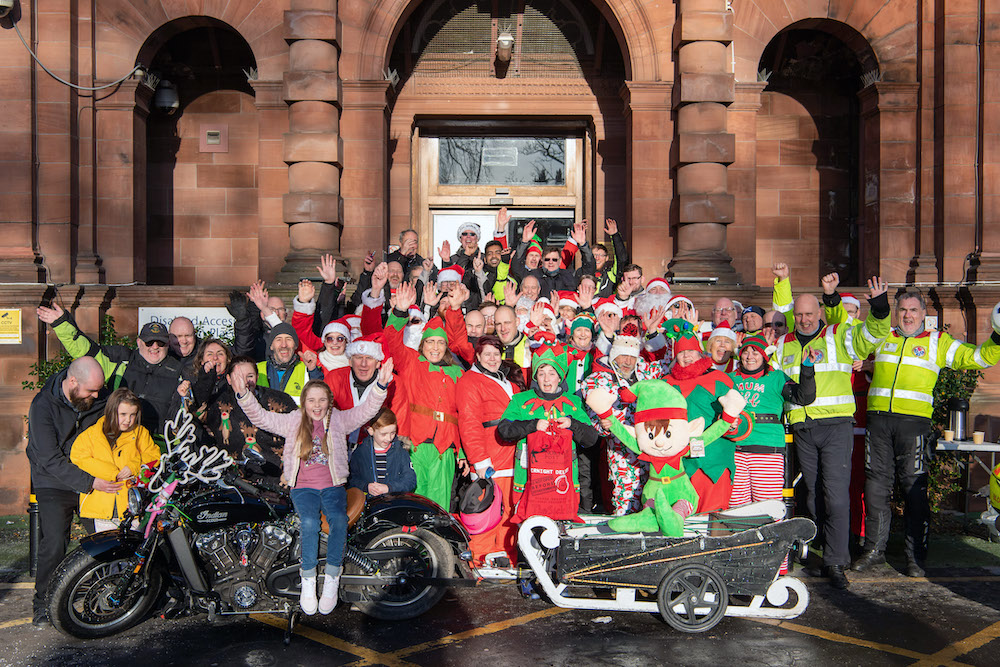 Supported by Edinburgh Children's Hospital Charity (ECHC), Edinburgh & District Advanced Motorcyclists (EDAM) and Peebles Motorcycle Clan (PMC) join forces every year to collect toys and donations for the hospital.
The Santa Run began in 2013 and there is also an Easter run now too.
Stuart Richardson, of EDAM, said: "We were inspired by previous Santa Runs that we had seen in Dumfries and Galloway and Glasgow, and we wanted to start our own as there wasn't one taking place in Edinburgh. 
"The support we get from families, friends, colleagues and the local community every year is just incredible and allows us to give the kids some really special gifts. We know Christmas can be a challenging time for children, young people and their families in hospital, so we like to do our bit where we can to spread some festive cheer."
ECHC supports and complements the work of the Royal Hospital for Sick Children and helps to organise the bikers' visits.
Rachel Baxter, Director of Fundraising at ECHC, said: "Christmas is a very special time of year and we work hard to ensure that no child or young person in hospital misses out on the joy of the festive season.
"We are incredibly grateful to the motorcyclists for their generosity year on year. Seeing everyone's faces light up when they see the bikes and receive their gifts always makes it a Christmas to remember.
"We exist to ensure children and young people's lives are less interrupted by illness and they have a more positive hospital experience. It is with the help of activities like the Santa Run that we are able to do this."
Edinburgh Children's Hospital Charity believes that nothing should get in the way of being a child. The charity recently launched its Make Christmas Magical campaign to ensure children, young people and their families have the best possible hospital experience, not just at Christmas but all year round.
To make a donation this Christmas, visit www.echcharity.org/donate