Hamilton Bulls were the visitors to a wet Inverleith last weekend to play a Stewarts Melville side aiming to maintain their unbeaten run – four in a row, so far – in NL2.
Stew Mel kicked off towards the Castle and it wasn't long before they were awarded a penalty which was followed by a line-out and a good drive for the first try of the afternoon, with 1 minute and 32 seconds on the electronic (and functioning) scoreboard. The try scorer was Doug Randall and Gavin Tainsh added the extras to make it Stew Mel 7 – Hamilton 0. A good introduction for Gav, who had been thrown into the starting line up with no time to warm the bench.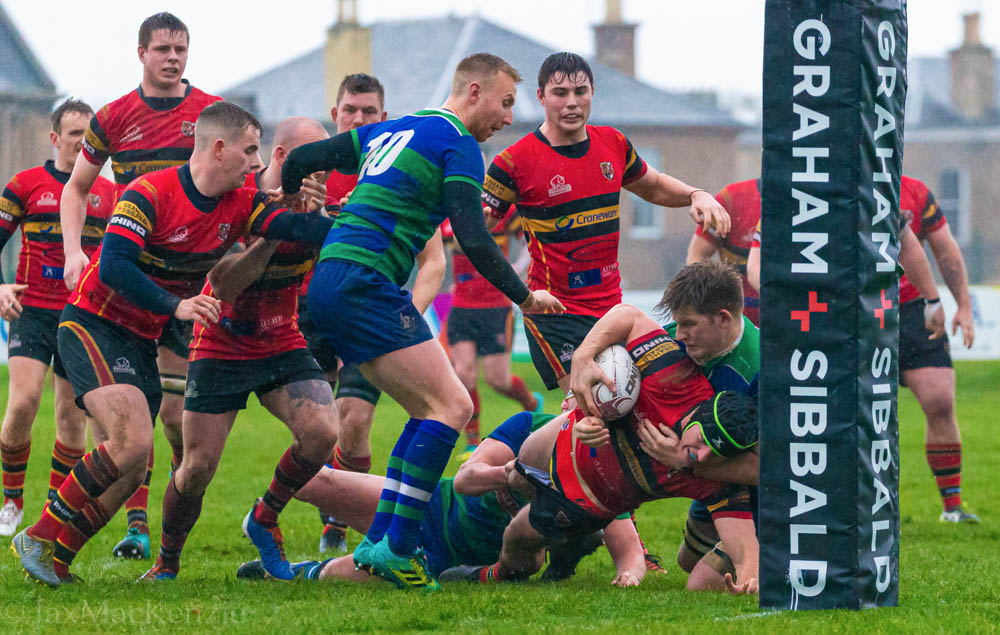 At the restart Scott Alldritt, back from his break in France, collected well, finding Fraser Strachan, who launched the ball high. With a knock on by Hamilton, the first scrum of the afternoon took place around the halfway line. Another penalty came Stew Mel's way (that's two in the first 5 minutes, for a change!) but, unfortunately, the touch was not found – but yet another penalty came in Stew Mel's favour.
A quick tap and go led to the ball arriving in the hands of Adam Greig on the left wing but the pass was deemed to be forward. This led to another scrum, which Stew Mel successfully managed to disrupt, although this time the penalty award was against them.
A good kick from Hamilton's captain and stand off found touch, allowing the visitors to apply some pressure and attack out wide, another penalty coming their way 5m out although good defence from Stew Mel kept them at bay. The tables were then turned once more, with Hamilton this time being the victims of a forward pass. A scrum at halfway, Stew Mel ball, was reset and then a penalty resulted in a line-out on Hamilton's 22.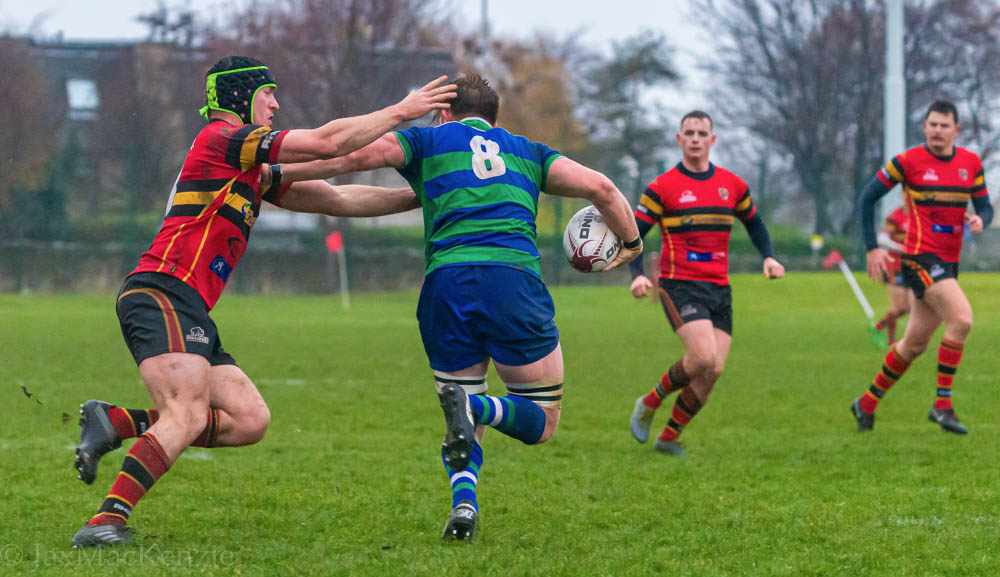 Whilst the execution of the line-out was good, a bit of aerial ping pong then followed and play ended up back in the same place, this time Hamilton's ball. They then used the width that we all know about, and, despite a gallant cover tackle by Charlie Simmonds, they managed to move the ball again, cleverly going the opposite way to exploit the overlap. The score was inevitable: 15 minutes in, Stew Mel 7 – Hamilton 7.
As play resumed it wasn't long before Hamilton were again awarded a penalty around the halfway line. The ambitious attempt at the 3 points didn't quite have the legs, but, minutes later, they were awarded another kick and this time made sure that the 3 points went in the bag. 25 minutes played, Stew Mel 7 – Hamilton 10.
The dialogue between the ref and the respective captains was building, leading to another penalty for Stew Mel, but the kick didn't quite find touch. Following the 22 drop out Stew Mel retrieved well, and, after a scrappy passage of play, launched another attack, Scott Alldritt at the helm, but possession was lost.
This led to a number of scrums 5m out and the forwards were in their element, driving over for Scott to touch down between the sticks, scrum cap intact but without his breeks, initially mistaken for a Muleta (matador's cape) as they were flung aside by one of Hamilton forwards!
Thankfully there is, as yet, no law in rugby whereby a try can be disallowed if you are in your 'budgie smugglers' when you score it! Gav added the extras, and, with around 30 minutes played, Stew Mel were in the lead once more with 14 points against Hamilton's 10.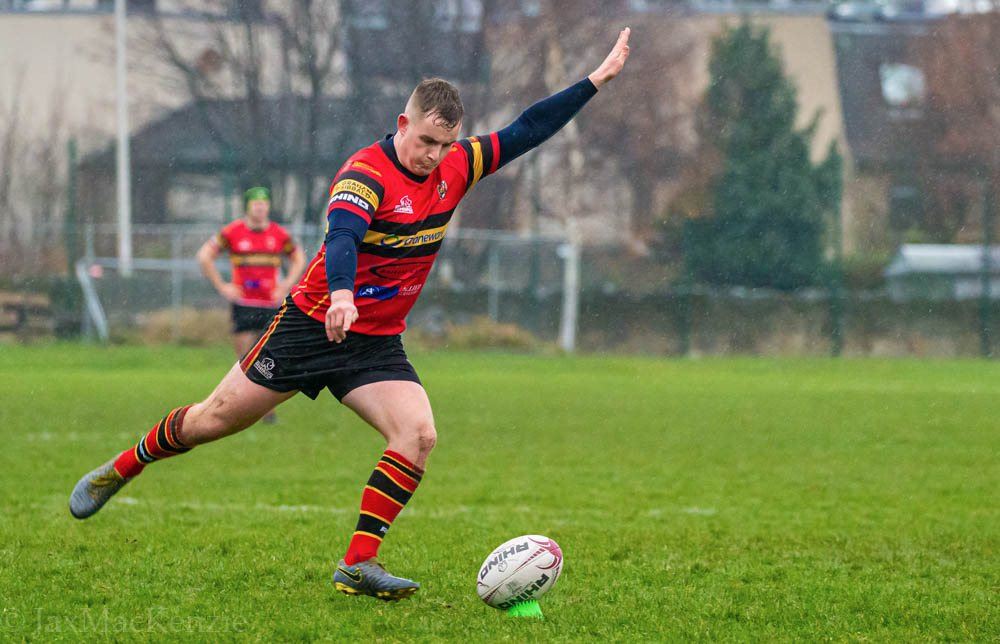 Half time was approaching as Joe Bailey led the charge and a sniping break by Fraser gave us good territorial advantage – but the slippery ball didn't, as we had hoped, play ball. It wasn't, however, long before possession once again returned to Stew Mel, allowing a break by James Ferguson, but a penalty then came Hamilton's way, allowing them to clear their lines.
A great steal at the line-out and Joe was away again, with further pressure leading to another penalty in Stew Mel's favour. A rewarding passage of play then ensued as the forwards rumbled on for another try by Doug with Gav again being successful with the conversion.
As half time approached Stew Mel had most of the possession, the backs and forwards working well together with good pressure from Scott and Connor McKay, although the final penalty of the first half was awarded to Hamilton.
The wind and rain did not abate as the second half started and a 50/50 aerial ball resulted in one of the pursuers coming off worse – thankfully not seriously. Stew Mel were penalised around the halfway line and, once more, Hamilton were enjoying a bit of possession and attack – only to knock on, giving a scrum to Stew Mel.
After some good basic rugby, the ball was moved wide, giving Sean Murchie the opportunity to get in for the fourth try of the afternoon and the bonus point. Gav was almost successful with the extra 2 points, but, unfortunately, one of the posts got in the way.
Sean's try made it Stew Mel 26 – Hamilton 10. Within 10 minutes, however, Hamilton won a penalty and line-out 10m out and their big forwards took advantage of the opportunity to drive over for a try and conversion. 55 minutes played, Stew Mel 26 – Hamilton 17.
As the skies darkened and the players became more difficult to identify, it was still easy to spot Ruaridh Mitchell, coming on in his clean kit, and he was straight into the action, winning a scrum. Stew Mel continued to play on the front foot, with Charlie running at pace, Euan Bowen kicking through and Adam Greig displaying his aggressive running style. All this pressure led to a penalty which, although within kickable distance, unfortunately didn't quite get there.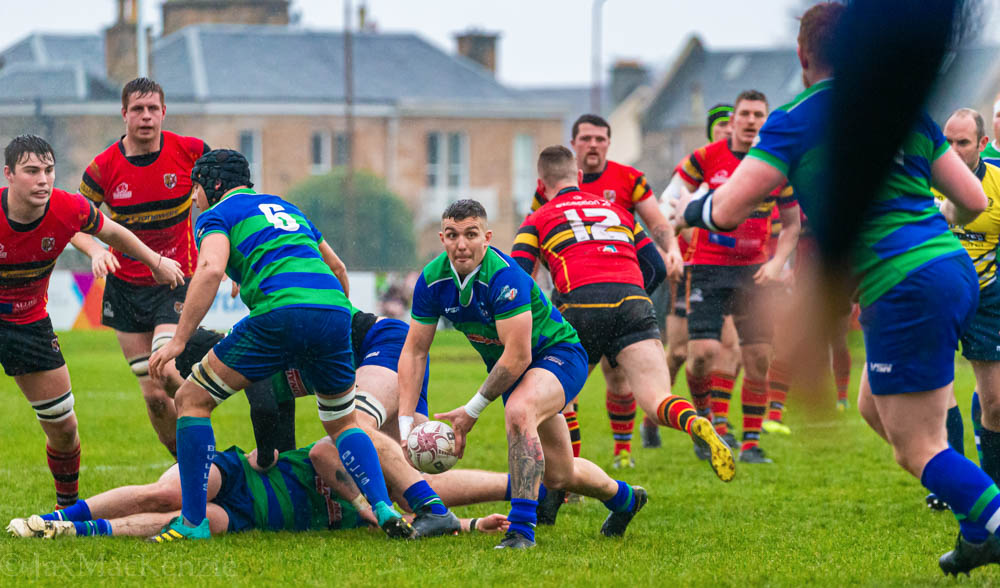 Hamilton were still struggling to get out of their 22 and James took the ball well at the 22 drop out with Chris Baikie close at hand, eventually resulting in another line-out. The throw by Hamilton was squint, however, and a good scrum from Stew Mel led to another impressive drive by the forwards and another penalty.
Still in possession and up and running again with around 60 minutes played, Darren Miller was over for another try; this was followed by a robust exchange of views but, thankfully, no cards. Stew Mel 31 – Hamilton 17.
A bit more kicking was being introduced to the game at this stage, most of it tactical and territorial. Hamilton were also applying the pressure with the boot, although Stew Mel were better placed, at this stage, to relieve any pressure that Hamilton managed to exert.
The scrum appeared to be extremely competitive and the two packs were certainly well matched, although it did appear that Stew Mel were getting the upper hand. Last Saturday's hat trick man, Cormac McCracken, had a go from 10m out, and, although not getting on the score sheet, certainly paved the way for Gav to break through to score and convert his own try. 70 minutes in, Stew Mel 38 – Hamilton 17.
At this point a certain Nick McCashin entered the fray, I think to prove, not just to me, but to all of us that he hasn't lost it (as if that was needed!) He was immediately involved and clearly enjoying the physicality. Not a bad finisher to have – don't hang up your boots yet, Nick!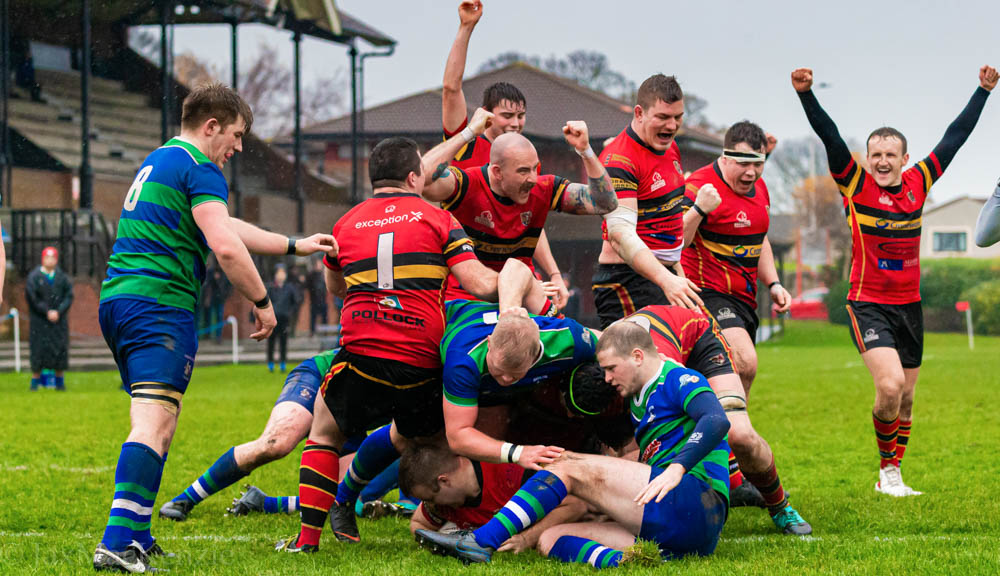 With 10 minutes left Stew Mel had the game wrapped up but the Bulls' charge continued, the wet conditions allowing both sides to enjoy a fairly balanced share of possession. Stew Mel's game management saw the game out, however, giving a final score of Stew Mel 38 – Hamilton 17.
Match report courtesy of Stewarts Melville RFC
Images courtesy of Jackie McKenzie