Gordonians made the long trip down to Inverleith for their NL2 match against a Stewarts Melville side who were brimming with confidence, being both on a winning streak and with a settled team to field. The only significant change to the home starting line up from the previous match was, in the absence of Jamie Sword, Ally Scott coming into the boiler house.
Gordonians kicked off towards the Castle on yet another sunkissed Invers' afternoon. Stew Mel retrieved well and sent the ball back into their half which enabled the visitors to launch their attack with ball in hand, and, although they were not making as much progress as they would have hoped, it was nonetheless an encouraging start them.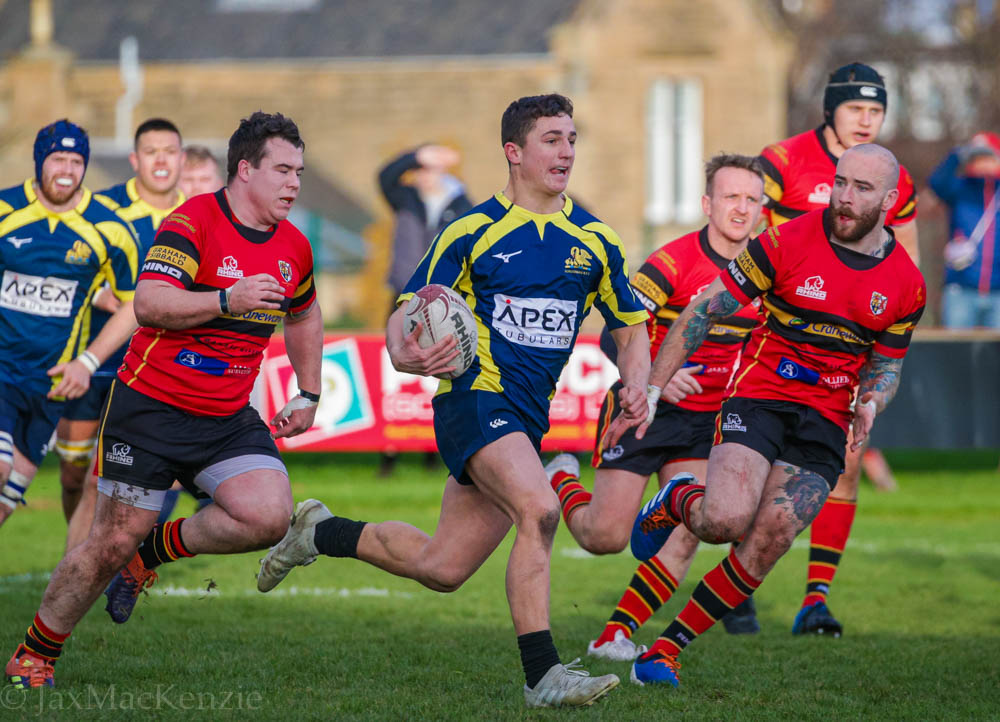 A knock on led to the first scrum of the afternoon and a strong one at that, as Stew Mel got their hands on the ball, Adam Greig and James Ferguson combining well and utilising the width of the pitch – maybe too much width, as a line-out on the Gordonian 22 was the end result.
Good defence from the home side midfield of 'the Jamies' (Ferguson & McGurk) kept Gordonians at bay, and, with possession being regained, quick hands and impressive interplay saw Sean Murchie opening Stew Mel's account for the afternoon with around 5 minutes played. Stew Mel 5 v Gordonians 0.
At the restart Scott Alldritt, with his distinctive green scrum cap, gathered well with his trademark drive, and, with Ruaridh Mitchell and latterly James Ferguson close at hand, progress was made well into the visitors' half, but disappointingly, a penalty was conceded.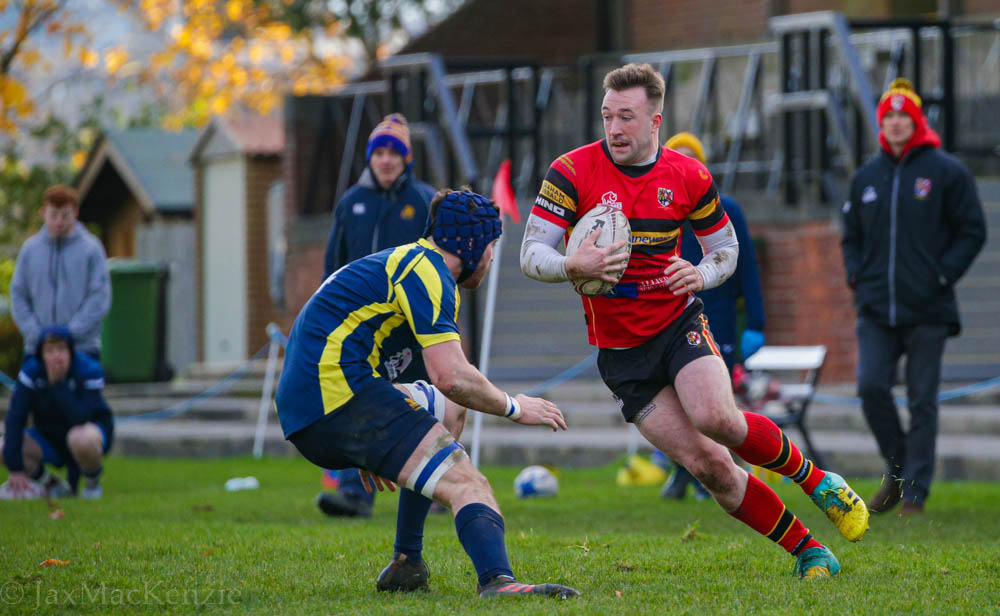 Gordonians thereafter gained some territory and a line-out, although the tables were turned and Stew Mel kicked deep into their half. They attacked once more, but, partially due to the pressure being applied by the hosts, the attack petered out with a scrum at the half way line, Stew Mel ball.
That green scrum cap was off again and almost over but a penalty prevented further progress. At this stage 15 minutes had been played but there were no changes to the score despite opportunities.
The pressure continued and Matt Sanderson went close but Gordonians managed to clear their lines, albeit only temporarily, as Stew Mel attacked once more with James, Ruaridh and Darren Miller all involved. At last the pressure paid off, and, with 20 minutes played, 'le Vert' Scott Alldritt was in. Stew Mel 10 – Gordonians 0.
The mounting pressure continued as Stew Mel made good use of their possession with some good hands once more, Matt Sanderson offloading to Sean who ultimately crossed for his second of the afternoon. 30 minutes, played Stew Mel 15 – Gordonians 0.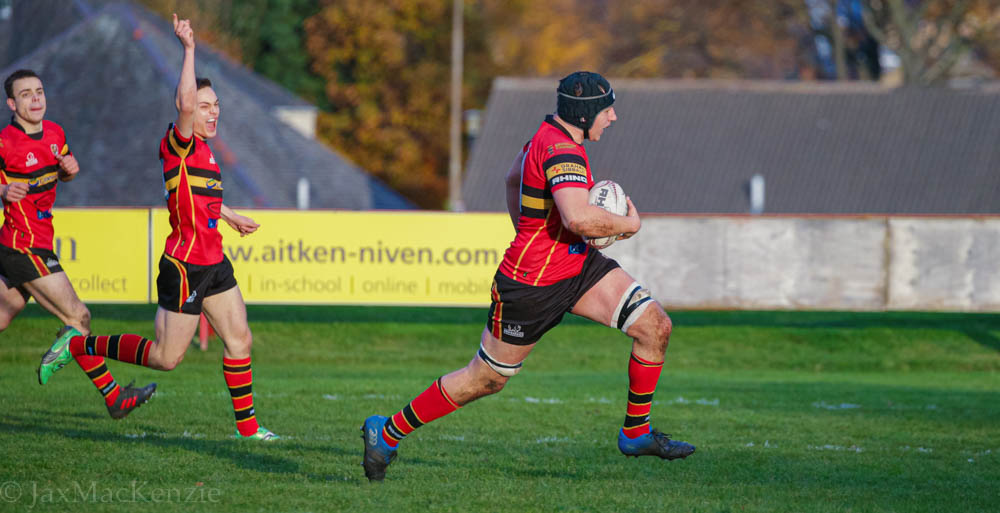 A few changes then followed due to injuries. Matthew Watson's afternoon was over, which meant some shuffling around, with the versatile Charlie Simmonds coming in on the wing, Sean at full back and Connor McKay entering the fray along with Joe Bailey.
These changes, in themselves, illustrate the strength and depth that SM now have as half time approached. Penalties were exchanged, as was possession, but, despite Gordonians enjoying a bit more of the latter, Stew Mel's defence held up once more – particularly when it seemed that Gordonians were certain to score when they were the beneficiaries of an interception. Half time Stew Mel 15 – Gordonians 0.
There was certainly a spring in Gordonians' step as the second half got underway and they attacked once more. There were no signs, at this stage, of these attacks waning, but, each time, they were met by a brick wall, and, when Gordonians managed either to earn a scrum or a penalty in their favour, the Stew Mel back row, particularly, were out of their blocks like bullets, knocking them back and preventing any territorial advantage.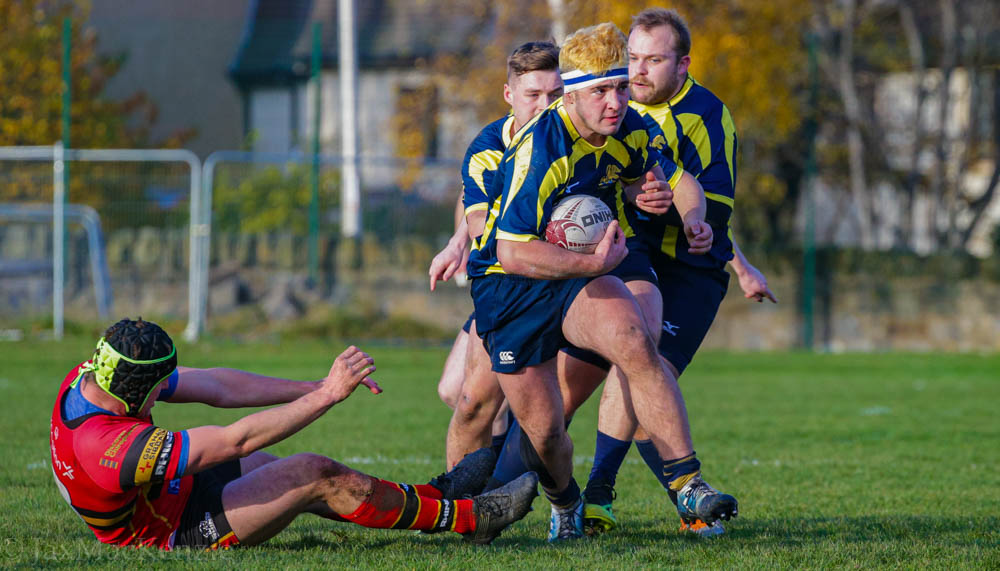 On, at least, three occasions the Stew Mel forwards wrapped up the opposition, winning the scrum and easing any pressure that was coming their way. It did take a while before the fourth try came, along with the bonus point – at around the 55 minute mark, to be precise, courtesy of debutant Ally Scott, with Euan Bowen this time adding the extras.
With the floodgates now slightly ajar, the forwards rumbling on and around 65 minutes played, this time it was Darren Miller who forced his way over. Stew Mel 27 – Gordonians 0.
Shortly after the restart, Ally, clearly not content with his elevation to the first team and only one try to his name, was over again for a second, converted by Euan, bringing the score after about 67 minutes played to Stew Mel 34 – Gordonians 0.
Gordonians, although still in the mix, were now struggling against a dominant Stew Mel side, with our forwards doing the damage and Fraser Strachan, the lynchpin, varying play, foiling the opposition and finding space and width. As Sean broke through a few defenders, he sensibly realised that it was best to offload to the young fresh legs of Charlie, who sprinted 50m for the final score of the afternoon. Stew Mel 39 – Gordonians 0.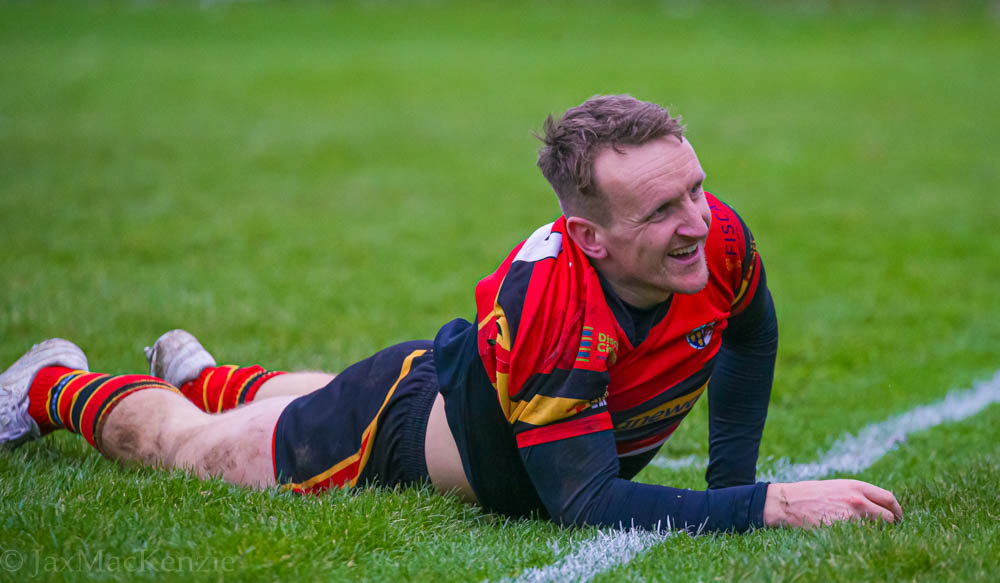 Another good day at Inverleith, and, although not quite a 'Dumfries' performance, there was a touch of the Japanese as we witnessed some great hands between both forwards and backs – and, just like Scotland couldn't live with it, neither could Gordonians.
The defence was again resolute. Anyone who has played the game knows how physically and mentally draining it can be. That said, Gordonians were perhaps unlucky not to get some points on the scoreboard as they clearly had opportunities.
Match report courtesy of Stewarts Melville RFC
Images from the match will appear here over the next few days