We were at the official opening of the new gift shop at the National Gallery this evening (by mistake rather than by invitation, but we can tell you that the shop is bigger than before and has some lovely merchandise!)
The new look shop opened at the beginning of October, along with the new entrance to Princes Street Gardens (although that has still to be completed).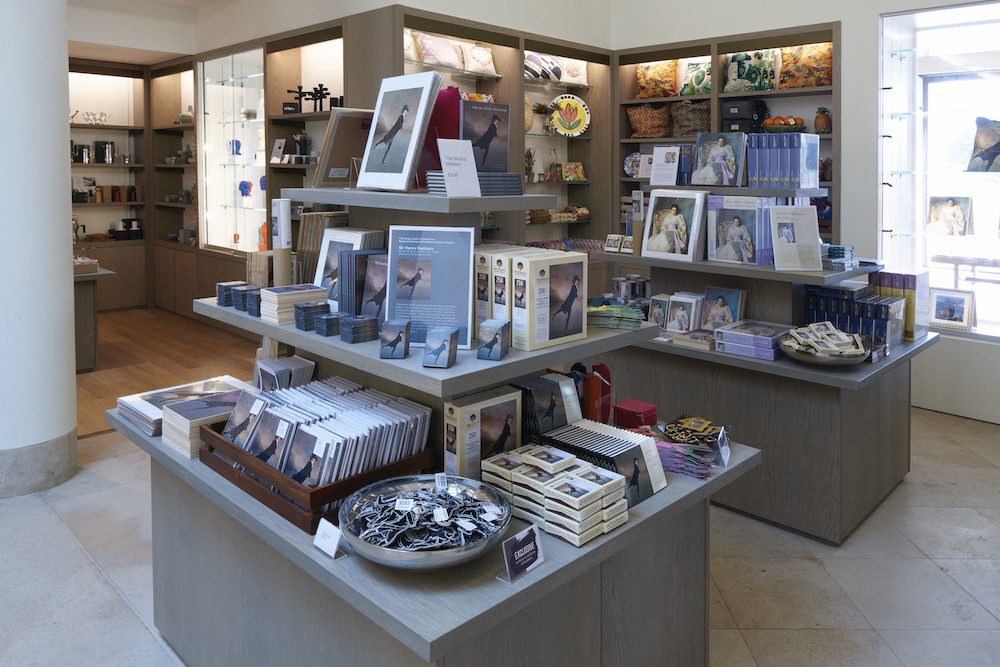 This is all part of the major redevelopment of the galleries to create brand new, light-filled gallery spaces for Scotland's unrivalled collection of Scottish art, and to ensure the galleries and East Princes Street Gardens are accessible for all, with the introduction of new paths and landscaping.  
There are Scottish gifts, art prints, stationery, fashion accessories, craft, design and exclusive products featuring images from the nation's world-class art collection. There is an improved book area promoting the NGS publications and a wider range of art books.
With Christmas just around the corner there are art-inspired gifts reflecting the rich culture and heritage of Scotland – and Christmas cards too. There is an extensive range of other greeting cards, prints, scarves, mugs and other classic gallery mementos showing off well-loved images from Scottish artworks including the Skating Minister and The Monarch of the Glen.
Construction work is still going on at the Scottish National Gallery, gallery but shoppers can enter via the newly landscaped entrance and accessible path at the East Princes Street Gardens level of the Gallery. We do hope they will remove the ugly wooden railings there soon.
Patricia Allerston, Co-director of 'Celebrating Scotland's Art': The Scottish National Gallery Project, said: "The fabulous new Gallery Shop, along with the beautifully refurbished Scottish Cafe & Restaurant are fantastic assets to the Scottish National Gallery, and easily accessible via the new Gallery entrance. A smart, new self-service café, Espresso is also available at the upstairs door of the Gallery accessible from the precinct.
"We are keen to ensure that Scotland's art and East Princes Street Gardens are both readily available for all. As part of our major redevelopment, we have created a new, accessible path. This makes it much easier for everyone to explore the Gardens. It also enables visitors to enter the Scottish National Gallery via the Gardens level and enjoy our new shopping and catering offer."