With three wins from four matches so far, Stewarts Melville were hoping to maintain their momentum in the Tennent's NL2 division with a win over, the visitors to Inverleith, Peebles.
Peebles kicked off towards the Ferry Road end on a damp afternoon; the ball, was, however well taken by Stewart's Melville and James Ferguson was immediately off, offloading to Dave Allan who found Euan. His kick through pushed the visitors back although they did manage to hold on to possession.
Unfortunately in the early stages play was stopped due to a head injury to Connor Mackay, bringing his afternoon to a premature end, and Tom Petiau's to an early start.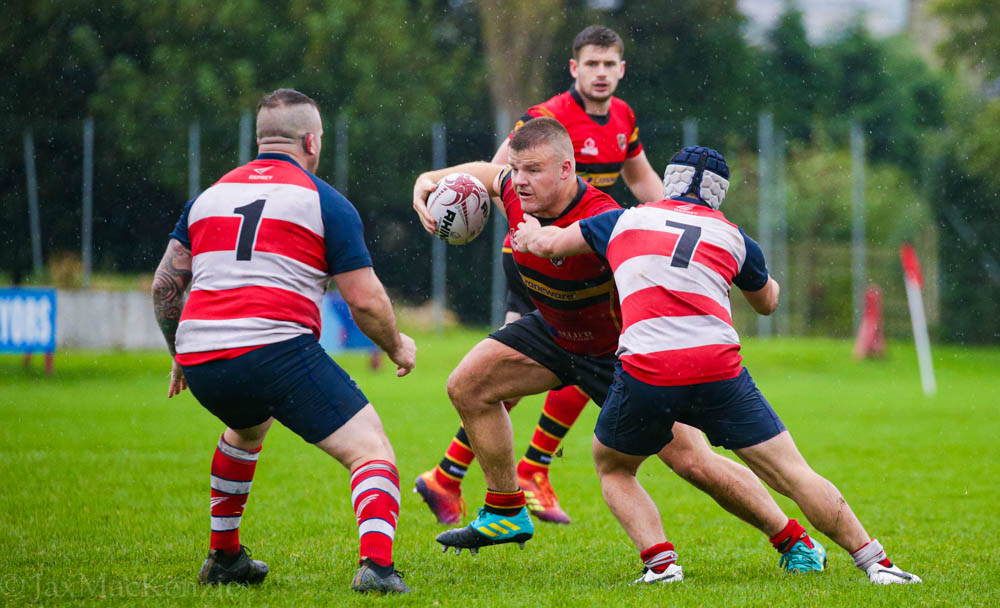 Great work by the pack at the first scrum of the afternoon saw the home side regaining possession and the opportunity to attack, Euan Morrison again involved with good hands from Michael Miller and Joe Bailey keeping up the momentum. Peebles defended well, however, winning a scrum and managing to clear their lines.
The tables were then turned once more as Stewart's Melville won the line out, Momo leading the charge from 10m out. A penalty in Stew Mel's favour, a line out and a drive from 5m out saw Doug Randall in for the first try of the afternoon, to the delight of not only the Inverleith faithful but also that of his travelling support from Portsmouth – the journey was worthwhile, after all! Euan added the extras, and, with ten minutes played, it was Stewart's Melville 7 – Peebles 0.
At the restart Matt Sanderson gathered well, allowing Jamie Sword to progress, and, with good hands from Sean, Momo and Euan, some width was exploited. A kick through by Fraser Strachan then forced Peebles on to the back foot once more, and, in an attempt to move the ball, their pass was adjudged to be forward.
Another good scrum, good hands and more pressure resulted in a penalty and a line out 5m out, but, unfortunately, this time, despite being so close, we could not capitalise and a penalty in Peebles' favour gave them a 'get out of jail' card.
The Border's side then enjoyed some possession and attempted to kick downfield for territory but the ball was well retrieved by Matthew, and, thereafter, Jamie McGurk breaking through, but the slippery ball was lost.
The home side were soon back in the ascendancy and it was one way traffic with around 20 minutes played, with the pressure resulting in a kick-able penalty. With only one converted try at this stage, the opportunity to get three points was a no-brainer for Euan. Stewart's Melville 10 – Peebles 0.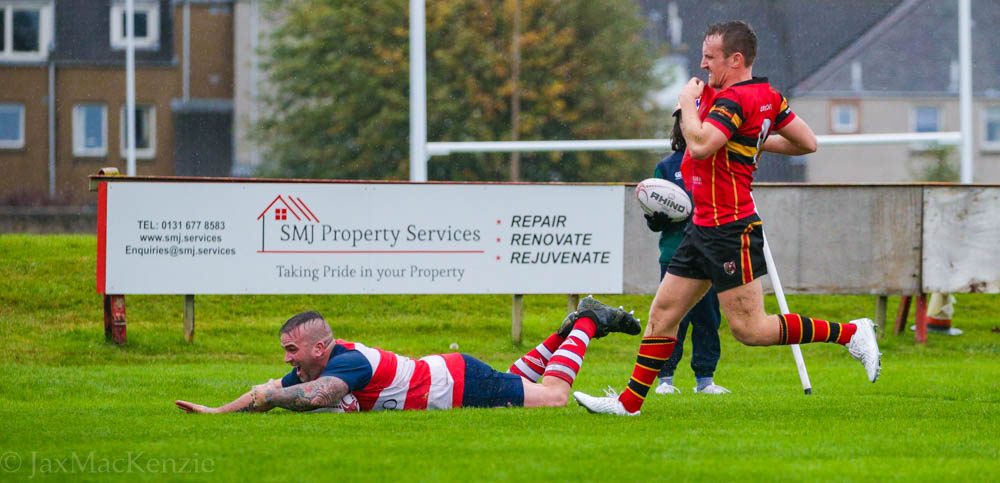 The movement of the ball between both forwards and backs was impressive at this stage, but, maybe, a little too ambitious, as, against the run of play, the opportunity for an interception came, giving Peebles their first points. 25 minutes played, Stewart's Melville 10 – Peebles 7.
Though Stewart's Melville continued their dominance and were definitely playing all the rugby, Peebles had their tails up after scoring and were starting to gain more possession and territory, a well executed kick bobbling into touch 5m from the Stew Mel's try line.
It was then Peebles' turn to apply the pressure, and, although Stewart's Melville did receive some respite, with a penalty coming their way, this was short lived as the visitors attacked once more, utilising the width of the pitch. Some uncharacteristically poor defending then allowed them in for a well deserved try which was duly converted.
With around 35 minutes on the clock the scoreline was Stewart's Melville 10 – Peebles 14, and thanks to a solid defensive effort in the last 5 minutes, that's where the half time score remained .
Stewart's Melville got the second half underway and further pressure from Peebles led to a penalty and an easy 3 points around the 50 minute mark. Stewart's Melville 10 – Peebles 17.
There was more of a balance in play at this stage, in terms of possession, and there appeared to be a degree of panic on both sides, particularly from Stewart's Melville, who found themselves chasing the game despite their early dominance.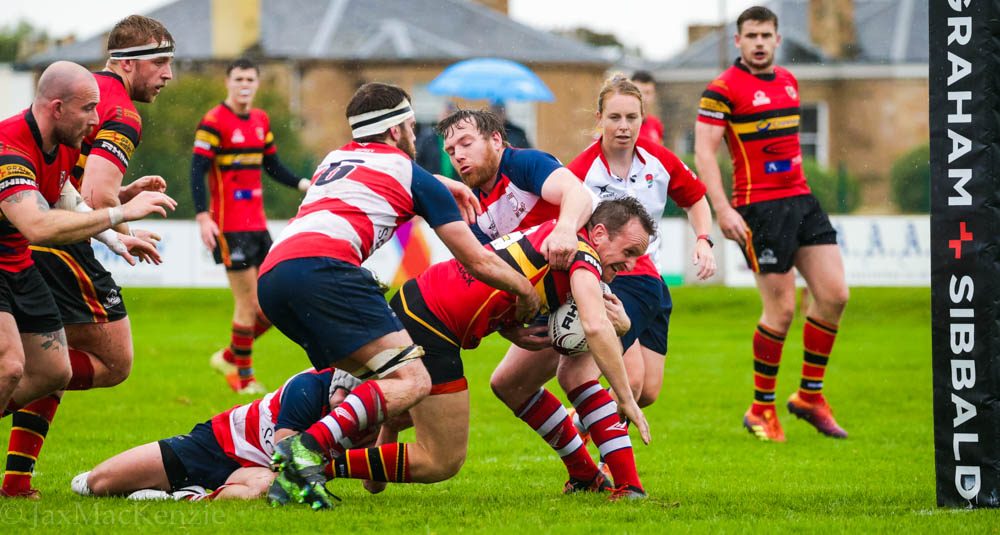 Patience is a virtue, though, and its reward seemed to be coming as the Inverleith men attacked from 10m out – only to be met by a solid Peebles response that saw the visitors clear the danger back to the half way line.
At this point Neil Bowie entered the fray and added what was needed in the midfield, helping us to gain some important territorial advantage and the opportunity to attack once more, with Joe Bailey enjoying a trenchant run up the stand side.
This resulted in more pressure on the Peebles line, and, although possession was lost, it was eventually regained for a sustained period, giving Fraser Strachan the chance to nip over for the try, which, although long in coming, was most welcome. Unfortunately the additional 2 points were not added. 65 minutes played, Stewart's Melville 15 – Peebles 17.
There was now a visible but controlled urgency in the way that Stewart's Melville were playing as they applied more pressure, and, eventually Ruaridh Mitchell powered his way over. The electronic score board, batteries now recharged, indicated 70 minutes and the score line Stewart's Melville 22 – Peebles 17.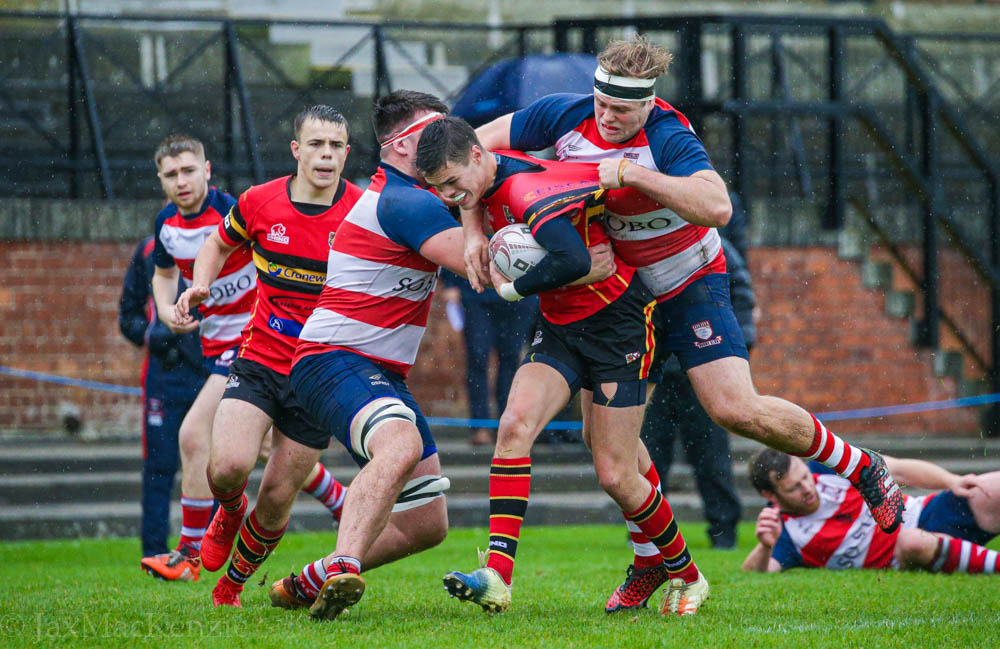 With a tense 10 minutes left, tempers were somewhat frayed and an altercation saw the first yellow cards being produced, the recipients on both sides. Losing Joe at any time is a major loss but at least it was 14 vs 14. The moral of the story is, however, 'don't mess with Joe Bailey!'
As Stewart's Melville continued to apply pressure, we were awarded a penalty that was clearly kick-able. The more conservative among us would have taken the 3 points, however, with the dominance being displayed at this point, the right decision was to go for the fourth try and the bonus point and it came courtesy of James Ferguson, coming off his left wing and bursting through. Final score: Stewart's Melville 27 – Peebles 17.
Thanks to Stew Mel for the report and Jackie MacKenzie for the images
Images from the match will appear here