With the quirky touch of public rooms named after Shetland Ponies originally stabled in the nearby Stud on the estate, it is obvious that there is a great deal of history surrounding the original buildings which now form part of Garvock House Hotel in Dunfermline!
Formerly known as Transy House, the House was owned by a wealthy family and formed the centrepiece of a huge estate that ran northwards across Dunfermline.
Sold by the family after the Second World War, the House became a retirement home for elderly ladies and was then let to Fife Council.
Around this time the name of the Hotel was changed to Garvock House and was retained by the present owners, Pamela and Rui Fernades, when they purchased the house.
"When we bought the building it still retained the feeling of a family house," said Pamela Fernandes. "We wanted to keep that feeling – that it was a much loved house, and very grand – and we definitely achieved that when we turned it into a family run, intimate hotel, but one that has fabulous service at its core."
"Fortunately, so many original features were still intact when we acquired the building over twenty years ago, which was perhaps surprising as the house had a few changes of ownership," said Pamela. "We have made sure we have looked after them over the years. The parquet flooring, for example, is still in very good condition and garners many compliments."
"We have obviously extended over the years, but made sure that the extension blended in well with the original architecture," said Pamela.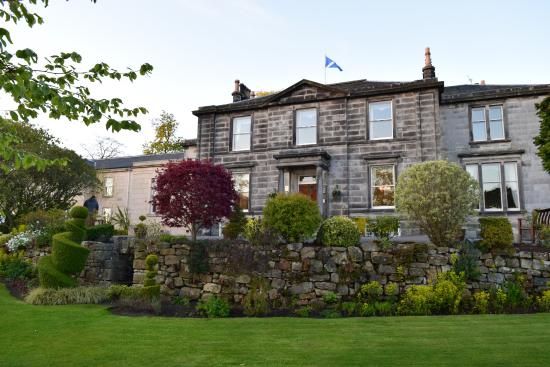 The Hotel has a room for everyone. With 26 bedrooms over two floors (12 on the ground floor) it also has two rooms suitable for those with mobility issues. These rooms are Visit Scotland Grade 2 disability Category.
All the bedrooms are slightly different. There are family rooms and a stunning Honeymoon Suite too. 
"Guests will feel special here," said Pamela, "We are big on comfort, but on practicalities too. We're also big on the little touches that mean a lot."
Garvock House Hotel is currently offering a superb value afternoon tea at £15.50 per person, served every day between 2.30 and 4.30pm.
A special lunch menu is also running, with one course at £14, two at £19,  and three at £24.
Further details www.garvockhousehotel.co.uk