In spite of the rebukes all round from opposition parties in The City Chambers last week I found the Council Leader Adam McVey in good spirits when I met him yesterday.
The SNP group leader is keen to stress that despite a feisty meeting last week the coalition administration of SNP and Labour councillors are still working hard at delivering on their 2017 business plan. 
This has 52 commitments in it spread across a variety of council areas.
It can of course be a double-edged sword as it covers a range of coalition ambitions and it has always been something that the opposition parties at the City Chambers can grasp and use against the administration.
But the argument at the full council meeting last week was that the report on the council's year was not only inaccurate but also misleading.  
Cllr Robert Aldridge the Liberal Democrat group leader said during the meeting : "It is one of the most misleading reports I have seen at this council or its predecessors. I have rarely seen such unity amongst councillors in their identification of the report as a work of fiction. When we have reached a point where every opposition party has called this report out for being misleading for being biased and fictional in parts something has gone very far wrong indeed."
In light of the universal opposition to simply rubber stamping the report,  the administration of SNP and Labour councillors was defeated by all other parties in its presentation of the report. A collaborative amendment was drafted up to the proposal with all opposition parties in unusual unity.  This demanded that the council's progress report should be sent back to be rewritten by council officers for production at the August full council meeting.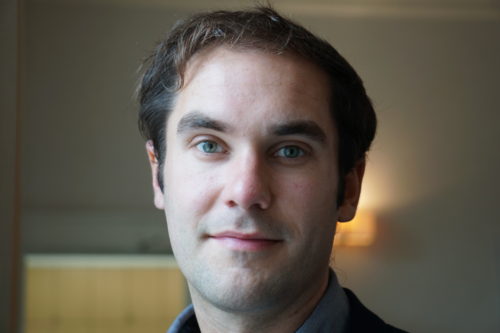 Cllr McVey said at the start of our meeting that during recess (the council is in recess this month) he gets time to do things he wouldn't otherwise have time to do so he had started his morning with young people at Citadel. I asked if it also gave him time to reflect on the last council meeting before recess and what had happened.
He confessed : "It was a feisty meeting as council meetings usually are."
I asked what the new report would look like and McVey continued : "Well it will look quite similar because the story to tell is the same story. There will have to be changes in the way the information is presented – some of the matters suffered from a lack of context and we can address that.
"There won't be a substantive change in the report card nature of it though, because this is officers' judgement in terms of where the council is in delivering the pledges the administration was formed on.
"Officers are saying that 35 out of 52 are pretty much on track with cognisance that there is 60% less left of this term still to run.
"In regard to the other 17 pledges there are issues which are highlighted. There are reasons why they are not on track – either there is work still to be done on them such as the recycling rate for example which is not high enough. 
"Crucially there is a five year target. this is a five year administration and while the report identifies that there is still work required it doesn't say we have absolutely failed in the last two years.
"None of the 52 commitments are yet delivered as the business plan covers the period of five years not just two.
Adam continued : "Opposition parties were accusing us of saying 'Job finished'. In none of those did we say there was no more to do. 
"The only thing we claimed was that in regard to 35 of them we are on track to deliver within this administration."