Around 35,000 visitors have passed through the doors of the new Edinburgh visitor information centre since it moved to the Royal Mile last month, VisitScotland can reveal.
Tourism Secretary Fiona Hyslop officially opened the new iCentre in the City Chambers today (27 June), alongside representatives from the city's tourism industry and national tourism organisation chief executive, Malcolm Roughead.
Visitors have so far been impressed by the new-look information centre which moved to its current home from Waverley Shopping Mall on 22 May.
Located close to Edinburgh Castle, the national tourism organisation has invested £400,000 to provide a 'welcoming and attractive' experience, offering information through a wide variety of tools to ensure visitors experience the best of the city and Scotland.
Investment in the flagship stand-alone centre is part of a dynamic strategy to respond to changes in the way visitors access information.
Visitors are encouraged to move fluidly around the space, make use of the stand-up desks and take inspiration from the big screens displaying locations from across Scotland.
As well as a team of dedicated staff on hand to help visitors make the most of their visit, additional features, such as inspirational wall graphics, leaflets and maps, are all designed to give a true sense of destination to promote the capital city, the wider region and country.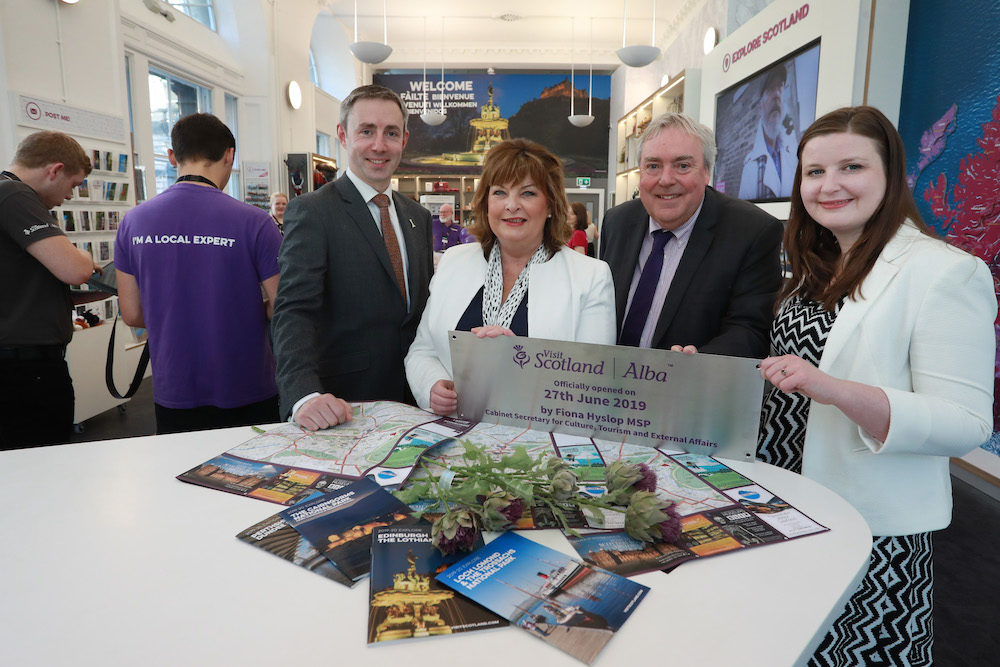 Tourism Secretary Fiona Hyslop said: "Scotland is a world-class tourist destination, and the Scottish Government is determined to do all that we can, working with partners, to make sure that visitors who come here have the best experience possible. This will encourage those who have visited to return again in the future and make the country more attractive to other tourists.
"Spaces such as VisitScotland's new iCentre on the Royal Mile are integral to our visitor offering, promoting the top spots in Edinburgh and, importantly, acting as a gateway to the rest of the country."
Malcolm Roughead, Chief Executive of VisitScotland, said: "The response from visitors to the relocation of our flagship iCentre into the heart of Edinburgh's historic old town has been hugely encouraging. Already we are seeing the difference of being closer to the visitor experience on the Royal Mile with users of the centre very complimentary on the new layout and information provided by our dedicated team of staff.
"Our new location will present a real opportunity to engage with more visitors this summer festival season and further inspire them to explore the farthest reaches of the region and Scotland."