Our Juliet takes the family with her on this trip to the country.
Something I always envied about The Broons was their holiday home. Admittedly they referred to it as a 'but n Ben', which sounds less than glamorous but it must have been refreshing to leave the tenements of Glebe Street for some fresh country air. The Wilson family, on the other hand live in soulless but comfortable modernity. After decades of braving the drafts of Georgian splendour we are now ensconced in insulated, double glazed heaven by The Shore.
However there's only so much modern living one can handle so I booked us in for a weekend at Mains of Taymouth, on the edge of Kenmore Village, just a short drive up the road from Aberfeldy. I packed too many clothes and lots of luxurious goodies to eat and drink, then off we set. The child had her travel sickness tablet and the Wilsons were in holiday spirits. The first "Are we there yet?" occurred at the other side of The Queensferry Crossing but mother was told in no uncertain terms we had at least an hour and a half to go.
The journey was rainy and felt a tad perilous on some of the bends but Loch Tay still looked magnificent on our arrival and check in was swift and to the point, a good thing seeing as the gin I brought with me wasn't going to drink itself.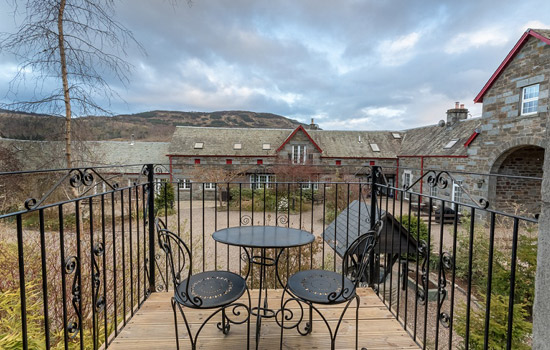 Mains of Taymouth is the old stable mains of the estate farm adjacent to Taymouth Castle. The original buildings have been converted to four and five star properties, each with a hot tub and some also featuring a sauna. There are plenty of modern properties in the estate too (42 in all) and each fitted out to a stylish and high standard. Our welcome was warm, quite literally, and the log burning stove was ready to strike a match to, so we settled in for the evening, and although our Smiddy Cottage didn't have a sauna we didn't lament the lack of one.
There were three bedrooms in our property, one with an en suite, but some of the larger houses sleep up to 12. Not only was it tropically hot but there was a telly in every room. Perfect if you want to watch tv, drink gin and eat crisps in your underpants.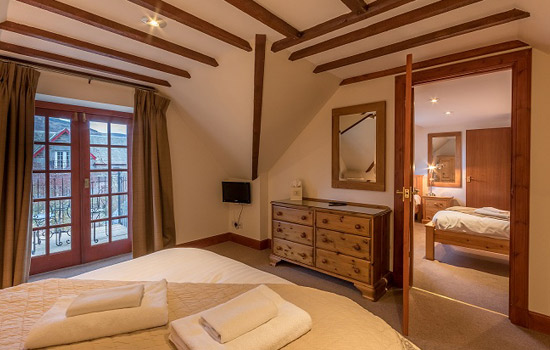 It was, to use the technical term, 'pishing down' outside and I secretly hoped for more of the same the next day to upgrade to drinking wine in my pyjamas. Yet the bed was cosy and the sheets crisp, so after a great night's sleep it was time to have a more active Sunday. We could have gone on a long walk, sailing or swimming at nearby attractions but being the Wilson family we did none of those things and went to the local pub instead. Part of the Kenmore Hotel the bar has the sort of roaring log fire ubiquitous in the highlands, but reluctantly lit twice a year if you're lucky in an Edinburgh hostelry, and some proper pub furniture.
But what's this I see? Some cretin has scribbled on the wall above the fireplace. But worry not, the graffiti artist was Robert Burns and the rather neat scrawl, one of his lesser known originals. Furthermore its preserved with a pane of glass lest some wag comes along with a rubber.
The village of Kenmore is delightfully cute and gives residents at Mains of Taymouth a few places to choose from should self catering become a bit of a drag. Much as we're keen to stay in the pub and admire the Burns memorabilia, it's time for the child to have a pony ride.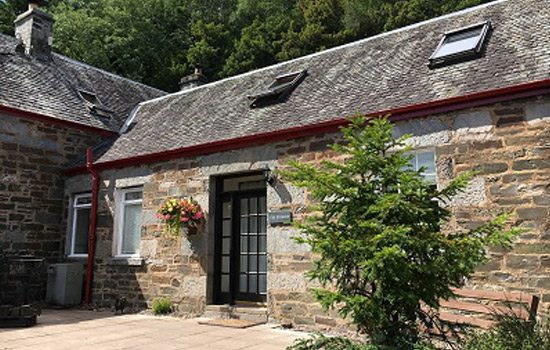 Mains of Taymouth Stables are a mile away from our residence and is run by two lovely ladies who promise me my (never been atop a horse) daughter is going to be introduced to the nicest Pony. Damnit! Can she not be put on the most bad tempered one you've got because although this half hour ride is a veritable bargain at £20 I'm not sure I want to sign up for riding lessons when we get back to Edinburgh. Lucy, a darling little white pony is adorable though and my daughter is in heaven. Although nervous at first the tutor puts her at her ease and off they go on a trek returning at a respectable trot. Afterwards a broken record commences with , "When can I start riding lessons?" on a loop that a week later still hasn't abated.
Back to the log fire with a cheese board I've curated from Lidl's finest. Should you forget to bring such delights don't fret, the gift shop is epic and has just about everything your spoilt heart could desire. The shop assistant is the resident fudge maker and has an impressive if eclectic array of treats including Irn bru fudge. Its the tablet we're after though and its teeth rottingly good.
After an afternoon of doing naff all it's time for dinner and we've chosen to eat in the resort's own restaurant and bar. Its a big place that I suppose has to try to be all things to all people but is blessed with an impressive and well piled fire pit. Although we visited in March everywhere we go is positively roasting. The bar and restaurant appear to be well used but during the summer months when there's outdoor seating I'm sure the atmosphere is great fun. Dogs and children run free and there's a pool table keeping some teenage boys happy.
The service here is as warm as the fire and the food is pretty impressive. Our starter of scallops and mains of beef and venison are all cooked to perfection. There is also a selection of stone baked pizzas available to eat in or as a carry out for residents. We finish off with a chocolate brownie and creme brulée. There's certainly a lot of talent in this kitchen, so I wouldn't allow the diverse menu to be a turn off.
I have a confession to make: I'm not particularly a self catering kinda' gal. Being reluctant to clean up after myself and make my own bed at home, it's not something I'm keen to do on holiday. However I think my mind has been changed.
Mains of Taymouth has a lot that most other holiday homes I've stayed in lack. The house, in particular the kitchen, is very well equipped, I loved the luxury of the hot tub and there's plenty to do in the vicinity.
They also don't stint on the heating for your arrival which is pretty much essential in Scotland. From a romantic couple's weekend away to a grand family gathering, I can definitely see myself coming back soon. Although the prices look steep online, when you break it down to cost per night, per head, even at Christmas, New Year and peak season, I think a holiday here is an absolute bargain.
And feel free to do as much or little as you want.
Mains of Taymouth have some super special offers for April. Check out Taymouth.co.uk