Fire's in their belly and the telly's out the window. It promises to be another utter Usher Hall Masters Mash-up as 'Stairway To Heaven: Led Zeppelin Masters' returns for a UK & European Tour to Celebrate the 50th Anniversary of Led Zeppelin's eponymous debut album.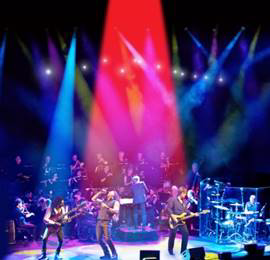 Fronted by powerhouse vocalist Vince Contarino and bolstered by the breathtaking might of the thirty-five-piece The Black Dog Orchestra, Stairway To Heaven: Led Zeppelin Masters features no fewer than eighteen Led Zeppelin classics.
Vince said, "We were taken aback by the reception we received. We loved that the UK audiences are so demonstrative – the energy is amazing. We are also still in disbelief when we look back at the reviews the press gave us throughout the first tour. They were so positive and encouraging. In fact, as the reviews were coming in we just kept trying harder and harder each night, so as to keep the standard up."
Moonlighting for The Reviews Hub in Birmingham last year I wrote then :
"It's time to get hammered by these doppelganger deities from down under. Twin Marshal amp stacks twinkle with dragon blood-red monitor lights anticipating being unleashed with mega-watt hell via the ludicrous twin-necked Gibson guitars of Tzan Niko.
"Industrial grade Perspex paneling appears to contain the untamed drumming beast that is Bradley Polain. His later revenge is sweet featuring a volcanic solo riff on a theme called Moby Dick. Mercifully, bassist, Warwick Cheatle eschews the bass solo option…it's what sin and ears evolved for."
http://www.usherhall.co.uk/whats-on/led-zeppelin-masters-0
Saturday April 6th, Usher Hall.